From designing your custom wedding menu to thanking your guests for coming, our wedding planners are with you every step of the way. While you are busy getting ready for your big day, we keep an eye on all the latest trends that you may love. It takes extensive experience and expertise to incorporate these trends into a seamless wedding experience. Our task is to mesh new, creative and innovative wedding ideas with consistent service and the highest-quality food to create an exceptional experience. And this is a challenge we look forward to.
Take a look at some of the latest wedding ideas and let us know which ones suit your unique style. Together, we can customize them and bring your wedding dreams to life.
Merging Unique Wedding Trends
Captivating Ceremonies
We are seeing incredibly dramatic wedding ceremonies and wedding theme ideas. Lighting and sound are being used in exciting new ways to create an unforgettable experience. Sophisticated and spectacular, the latest ceremony trends to wow guests include:
Custom Food and Drink Pairings
Signature cocktails remain a staple at top Chester County weddings. But they are trending away from sweet colorful pours in favor of classics like the Moscow mule. Kathryn and Warren's mint mojito whiskey lemonade is a perfect example of how couples are using cocktails to put their unique twist on the ever-popular rustic barn wedding.
Couples are also giving guests a unique cocktail hour experience by pairing food and drinks and setting up interactive drink stations. From flights with event staff sharing information about the beers to whiskey tasting stations, guests are surprised and delighted by these popular cocktail hour trends.
Shining Wedding Receptions
Because they are all bright and beautiful, it is not hard to bring together all the new wedding reception trends. Together they create a glamorous vintage atmosphere that is grand and elegant. Simple yet powerful, our favorite wedding decoration ideas are:
Tip: When the sun goes down, light up the fire pits! This is a great way to continue a wonderful wedding atmosphere filled with unique lighting.
Unique Seating Arrangements
The beloved rustic wedding theme isn't a new one, but it is showing up in different ways. We are seeing farm tables as well as long tables and statement tables for the bridal party and guests. Couples are putting their style into table arrangements, bringing guests together in new and welcoming ways that embrace a family farm vibe.
Fun Food Presentations and Stations
Traditional plated dining is giving way to dynamic menus that feature local ingredients and comfort foods. Couples want to showcase their taste and favorite food from their area in unique ways. When designing their menus, couples often ask us how they can add extra color, flavor and excitement. With local and seasonal ingredients already a staple in our farm-to-table menus, we point them to these wedding food trends: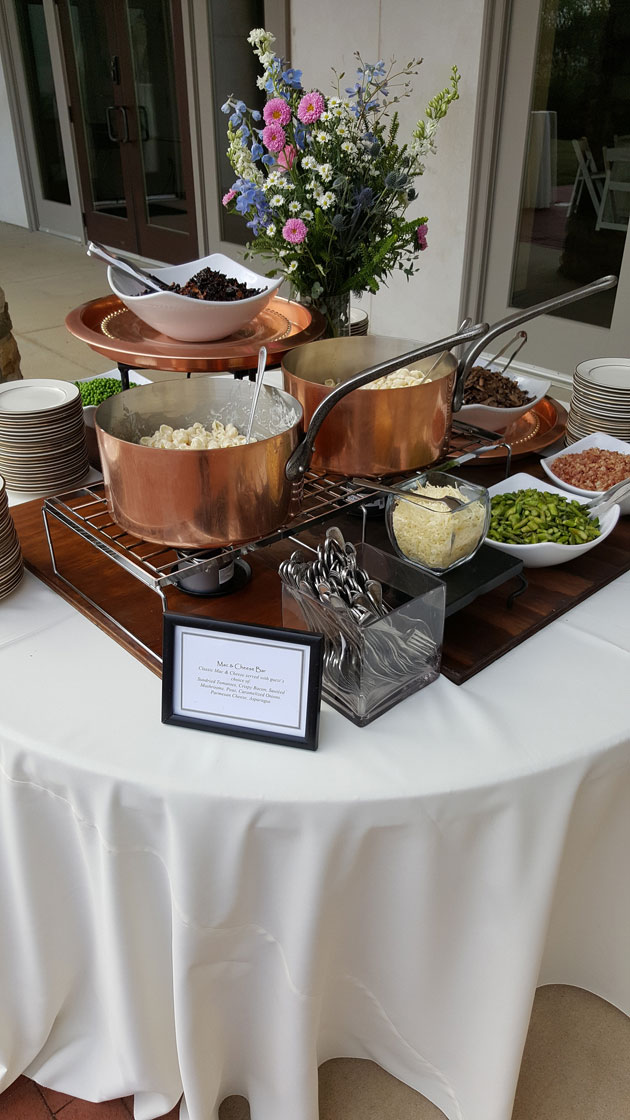 Translucent Cakes
When the naked cake took off in popularity, some couples didn't fall in love. Looking for a happy medium between a traditional cake and a bare one, couples now have a perfect option—a translucent cake. With just a touch of frosting and typically buttercream, this style of cake welcomes custom additions like fresh flowers or in-season fruits. Fresh, personal and beautiful, this is one of our favorite wedding ideas for summer.
Spectacular Live Entertainment
From acrobats to aerialists, the exciting new wedding trends reach a height in wedding entertainment where couples are pulling out all the stops. Weddings are more interactive than ever, and live performers showcase this trend. With such incredible entertainment, it is no wonder guests look up to see drones capturing footage of all the action. Many couples are also making an extra effort to live stream their weddings and impressive performers.
For more unique wedding ideas inspired by your wedding theme and brought together by our experienced professionals, contact us online or give us a call at 610.725.9420.
More articles you might enjoy: