Our creative wedding planners love to use your style and personality as inspiration for unique wedding menus and décor. But we also like to share our latest ideas with you. With decades of experience and industry leaders on our side, we've seen it all!
Wherever you are in your wedding planning checklist, we can help you incorporate these ideas to elevate your wedding experience.
The Latest Philadelphia Wedding Ideas and Themes
Feeling Fabulous
You're going to feel amazing on your big day—we will make sure of that! So start to think about ways to help your guests add to the positive vibe. We love these wedding trends that boost the confidence of bridal parties and guests by making them look and feel fabulous:
Mismatched bridesmaids: A top wedding trend that your bridesmaids will love! Let them choose the color and style of their dress. Or to really mix it up and help their personalities shine, let them know that they are also free to go with a non-traditional option like skirts and tops.
Glam bar: Among our favorite event ideas from political conventions is a beauty station with professional makeup artists and hair stylists ready to dote on your guests. Or, for those just wanting to refresh, a beautiful display of makeup will do!
Selfie Mirrors: Weddings ahead of their time are replacing traditional photo booths with "smart" mirrors. Simply plug in these acrylic mirrors with built-in cameras and you've fired up the social media of your wedding. Guests can directly upload to social media networks—of course using your wedding hashtag. We also suggest you connect a Bluetooth-enabled printer so guests can print out a copy to take home.
We want every couple to feel fabulous on their wedding day. Together, we will customize your wedding until we achieve that goal! But if you are already filled with positive vibes and ready to share those with your guests in a big way, then it's time to find that flexible wedding venue that will let you showcase your flare. The versatile Radnor Hunt with sweeping hardwood floors and wide windows is ready to accommodate your wedding theme! 
Kid at Heart
Your wedding is the day to bring all your childhood dreams to life (and have a little fun while you're at it). Besides, when growing up, you probably imagined anything but a boring wedding reception! So play around with these top wedding ideas that embrace your kid at heart:
Open seating: Didn't you hate it when your teacher assigned you a seat? Exactly. So save yourself some time and relieve any anxiety guests' may have by letting them choose their tables!
Coloring book tables: A table with crayons and open coloring books keeps kids happily entertained. But we also suggest setting up an adult version. Let guests color in stenciled memories from your relationship—maybe start with a landmark from the city you met or your first date! This is a fun way to share your unique story.
Grown-up version of kids' desserts: Think your childhood favorite sweets aren't fancy enough for your wedding? Think again—innovative chefs can transform them into adult versions that will wow guests.
Charging station: Don't be surprised if guests having so much fun take a few extra photos and videos on their phone. And the last thing you want is for them to be searching for an outlet to recharge their phone so they can take more. A charging station will let guests power up and move on to your next fun wedding activity!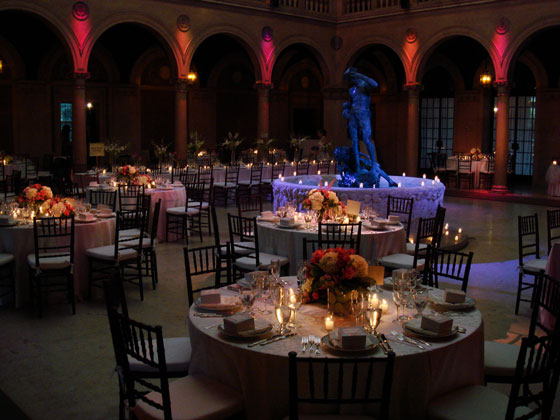 Every kid wants to be the brightest in the bunch and stand out from the crowd. So choose a venue that makes your wedding unforgettable. With an Italian Renaissance-style atrium, The Patio at Archmere Academy is one of the Philadelphia wedding venues that no guest will ever forget! Botticino marble, vast archways, ornate columns, stone balconies, a bronze statue and a serene fountain set a wedding scene that is anything but ordinary.
Ready to Party
Wedding receptions are a big celebration, right? And although the energy may really ramp up at your cocktail hour, don't let it stop there. These fun wedding ideas will kick off your reception with exceptional cocktails and keep the good times rolling through dessert.
Custom cocktail station: Guests create their own cocktails by collecting ingredients in a plastic cup and bringing them to bartenders. They will choose the alcoholic base and then complete the mix with a choice of citrus, herbs and fresh fruit. To really set the scene, use some of the ingredients, like Goji berries, to decorate the bar.
Cocktail mini golf: Don't expect your guests to bring their A-game when enjoying a cocktail. They will have a lot of fun at cocktail-decorated mini golf stations.
Champagne ring toss: All kinds of ring tosses are showing up at weddings, so jump on this trend by using champagne bottles for this fun wedding game suited for all ages.
Spiked desserts and coffee bar: To keep the party going late into the evening, infuse just a bit of alcohol into some innovative mini desserts and flavored coffee.
Where can you hold your wedding reception to have as much fun as you would at a top Philadelphia party yet still keep a sophisticated atmosphere? Dating back to 1882, the Phoenixville Foundry has an old-world charm and elegant details that will make sure your celebration is fun yet classy. The long chandeliers, balcony mezzanines and glistening tile floors of the 18,000-square-foot space mean that little decorating is needed to make your cocktail theme dazzle and delight.
Calm and Confident
A lot of brides are nervous, but maybe you're not one of them! When working with our experienced wedding planners who consistently deliver flawless weddings, it's easy to relax and look forward to your big day. And then you can enjoy it more! So custom design a wedding menu that reflects your personality and helps guests share in your positive state of mind.
A rustic wedding theme complete with a farm-to-table menu and a tranquil venue is all you need to create a serene atmosphere. The charming countryside scene you'll find at Springton Manor Farm is the perfect way to welcome guests to relax and enjoy the highest quality food, like:
Barbeque braised short rib
Grilled Lancaster grass-fed beef
Roasted fingerling potatoes
If you want your custom wedding menu and superior service delivered on time and on budget, contact our experienced Philadelphia catering company online or give us a call at 610.725.9420.
More Articles You Might Like: