---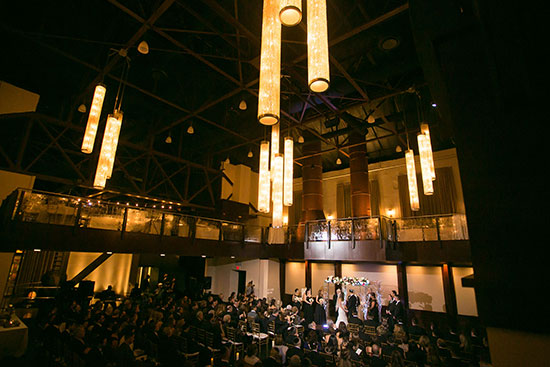 225 Guests | Phoenixville Foundry | Jewish Ceremony
In a wonderful wintertime wedding, Julie and Jordan's Jewish ceremony lit up the Phoenixville Foundry.
Planning and executing the Rapp-Katz wedding was no small task. With an evening ceremony and 225 guests who would begin arriving only half an hour before the start time, there was no room for error. Despite the immense logistical challenges, J. Scott was more than ready to accommodate.

Together, we custom-built this menu:
Passed Hors d'Oeuvres:
Roasted Tomato Bisque & Grilled Cheese Wedge
Fish on Chips
Crisp Cones
Seared Kobe Beef
Thai Chicken Skewer
Fried Chicken and Waffles
Stationary Hors d'Oeuvres:
Raw Bar
Slider Trio
Asian Station
Entrées:
Pan Seared Strip Steak
Seared Filet of Black Sea Bass
Seasonal Vegetable Risotto
Haricot Verte Bundles
Truffled Mashed Potatoes
Dessert Station:
Donuts Cake
Milk and Cookies
Assorted Berries
Wedding Details
The day of the wedding, our planners were on location early in the morning to ensure that their predetermined timeline would be followed to perfection. As each wedding party arrived, everyone took the opportunity to capture some truly stunning photos featuring the wintry white backdrop and fantastic facade of the Foundry. The bridal party itself was huge, with 17 people on each side and the father of the groom serving as best man. The rehearsal went off without a hitch and was an early indication of just how elaborate and beautiful this wedding and event would be.
In a seemingly perfect homage to the season, the couple collaborated with our planning and design team to decide on ivory, tan and gold for their colors. The color scheme operated in seamless harmony with the Foundry backdrop and created an atmosphere of joy, brightness and prosperity. Florist Russell Anthony did a marvelous job matching the colors and theme to further help create a warm, welcoming environment.
The ceremony was absolutely perfect. It lasted about 45 minutes, complete with heartfelt vows and observance of Jewish traditions. The highlight might have been the ring bearer, who was pulled down the aisle in a wagon with a sign reading "Don't worry ladies – I'm still single!" It was one of the cutest scenes we have ever been privileged enough to witness. As the ceremony concluded, our staff broke down chairs and opened the top wall of the venue. The lighting shifted, and the energy picked up to prime the guests for a lively celebration.
The cocktail hour kicked off, and guests were astonished by the extra large shrimp at the raw bar. Stationary hors d'oeuvres, slider trios with crab cakes and an Asian food station also gave guests a brief preview of the high-quality cuisine that was to follow. It would include baby green salads, pan seared strip steak, seared filet of Black Sea bass and vegetable risotto.
The Foundry provided an amazing setting for a memorable Jewish Hora (chair dance). The pictures surely tell the story. Speaking of pictures, a blow up photo booth provided by InstaShack gave guests the opportunity to interact and capture their own memorable wedding moments.
Later in the night (in one of the most unique elements of the wedding), the couple was introduced to their donut wedding cake provided by Federal Donuts (who also provided guests with donut to-go bags upon their departure). As the night wore down, guests were treated to an authentic Philadelphia cheesesteak food station and a milk & cookie station. Our chefs prepared each item right out on the floor as a warm snack to help heat up the dancing and contrast the cold winter night.
This is just a taste of the kind of perfect wedding that is prepared every time by J. Scott Caterers. If you're interested in writing your own perfect wedding story, click here or give us a call at 610.725.9420.
More articles you might enjoy: