What an incredible year for wedding catering this has been.
We've been fortunate to host some great weddings with incredible cuisine this year. Fusion concepts have really taken over, especially Korean and Asian flavors. We've even seen clients asking our chefs to enhance recipes from home in creative ways.
But ingredients and flavors are just the start of it. We've been working with Christopher Carlson, who creates beautiful designs with multiple layers. Wedding catering this year has really reinforced the belief that people eat with more than just their mouth.
Here are some of our favorite wedding food trends that have emerged in 2018.
Extreme cocktail bars.
The cocktail scene has really exploded with things like craft beer and food pairings. But custom signature cocktails have really been on the rise. The idea of including custom drinks that have a special meaning to the couple has really taken off. Many couples have even incorporated them into their wedding toast. Extreme cocktail bars have made the drink experience more interactive.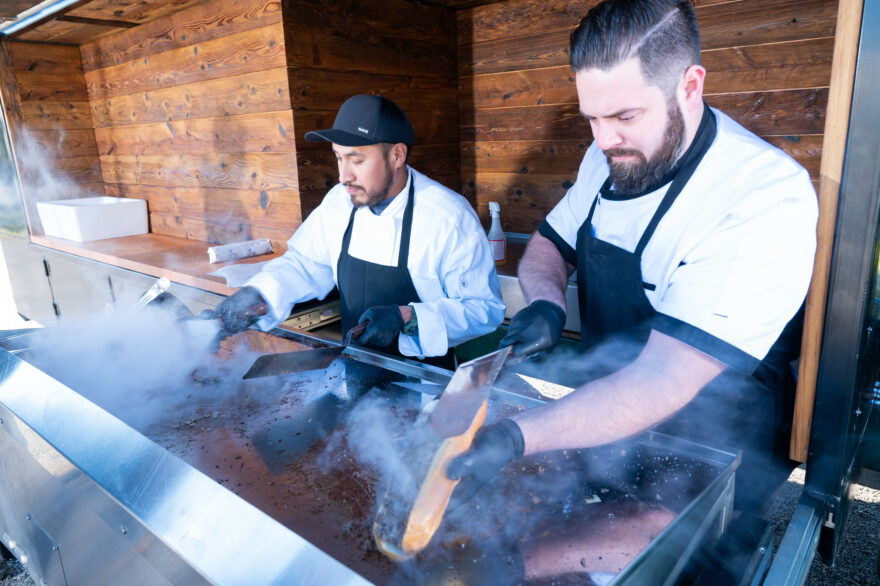 Food trucks and street food.
The food truck culture is booming just about everywhere right now. People love the convenience and creativity that food trucks offer, not only for local flavors but also for regional or ethnic foods. So wedding clients have been looking for ways to include these street foods on their wedding menus. If you're looking for a venue that is a great setting for street food stations, then Phoenixville Foundry's modest, industrial atmosphere is perfect for you. We've seen all sorts of interesting examples, from street tacos to our hometown Philly cheesesteak from The Lost Cow or wood-fired pizza from Common Good Pizza & Taps.
Interactive stations.
Speaking of making things interactive, the food station revolution is going strong. Wedding guests want to feel like they're taking part in the experience, and interactive food stations have proven to be a great way to keep them interested and get them talking. Stations even offer unique design opportunities for things like prop pieces and signage. Mini burger slider stations, mac n' cheese, chef-prepared risotto and carving stations (which can even be tailored for vegetarians) are just some of the creative station ideas we've seen at weddings.
Late night snacks.
Wedding receptions have been running later, and as a result, wedding clients have been looking for ways to satisfy their guests' late-night hunger. This year, weddings have seen some really creative and delicious late-night snack options, including custom donut stations or a cookies & milk service. These snacks give guests a boost of energy if they're feeling tired or once they're no longer feeling full from dinner.
Next day brunch.
This last trend has grown with the increase in popularity of Friday night weddings. With Friday weddings becoming more popular, guests are staying through the weekend and waking up hungry on Saturday morning. Next day brunch services have tagged on to the growing station theme. Popular next day brunch stations have included make-your-own omelette bars, chef-prepared crepe stations and coffee or tea stations.
Looking back, we're incredibly excited by some of the creative wedding food trends we've seen this year. We're confident that next year will see more interesting ideas come from our chefs and from our amazing clients as well.
More articles you might enjoy:
SaveSave