How do you foster and photograph the unique emotions, memorable moments and valuable connections that guests share during special occasions? Working with a premier Philadelphia catering company ensures that everyone, from the CEO at a big company party to the bride at her wedding, is able to relax and enjoy flawless service. That's when the genuine smiles, laughter and pride come forth, ready for your photographer to capture.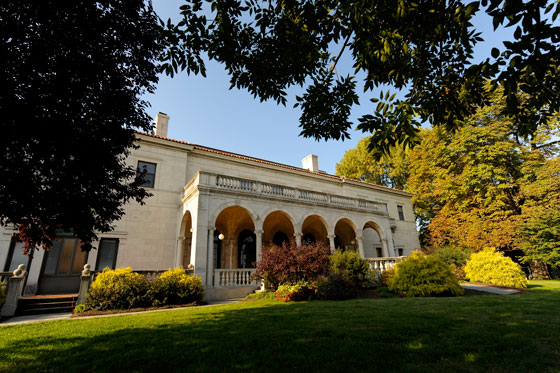 In this post, we add in the final element—a top Philadelphia venue like The Patio at Archmere Academy—to show you how to use a variety of backdrops to capture every emotion and moment.
Inspiring Photo Ops at The Patio at Archmere Academy
Grand Entrance Photos
When guests arrive to this Claymont location, they find a long driveway leading to the gates and grand front doors. This provides an extended entrance and opportunity for photos that capture guests' initial reaction to this stunning location. As they first step into a much-anticipated event and venue, you will likely photograph their excitement and intrigue.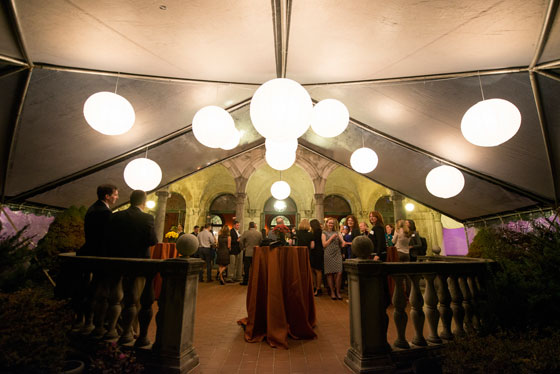 When you make introductions, whether among your bridal party or corporate VIPs, be sure to utilize the marble double staircase. It will give these guests of honor the stunning entrance they deserve and make sure their photos are beyond complimentary. Being among the most popular Philadelphia venues for weddings, this staircase has hosted more than a few bridal party shots—and we can tell you that they do not disappoint!
Elegant Fountain-Side Photos
Guests feel fabulous as they sample fine hors d'oeuvres carefully placed throughout the sweeping indoor courtyard. Surrounded by stone balconies and enclosed by a soaring stained glass ceiling, the patio immerses guests in the most sophisticated atmosphere. Here is your chance to capture guests' curiosity, hopes and dreams as they gaze up in awe.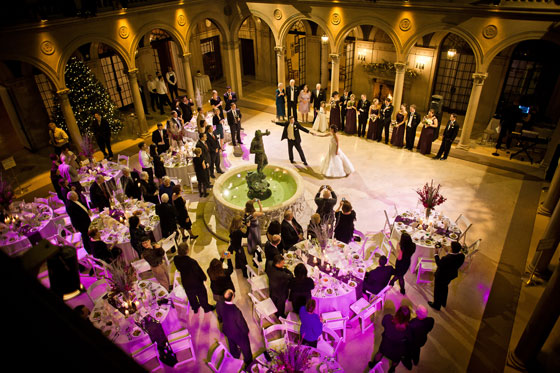 When guests explore this captivating space, be sure they enjoy unique hors d'oeuvres like:
Mini artichoke confit pizza
Roasted tomato asiago bruschetta
Mini caprese salad tartlets
All the fine details of the patio and delicious array of hors d'oeuvres will encourage guests to circulate and mingle. But soon enough, they will find a gathering point—the gorgeous fountain. Its energy and elegant flow alone attract visitors, but the stained glass ceiling also shines a spotlight on it. Although the stunning ceiling no longer retracts, it still allows natural light to pour in—adding an extra dimension to any color theme and decorations. This means you won't have to stage group photos and set up all the lighting because you'll get candid fountain-side group photos under natural light.
Joyous Italian Renaissance-Style Photos
Italian Renaissance architecture is absolutely stunning. There are few Philadelphia buildings that showcase the beauty of the Gatsby era. And only at The Patio at Archmere Academy will you find the neo-Italianate style. The botticino marble, grand archways and majestic columns of this historic venue make it hard to get a bad photo. Complete the experience with a delicious Italian menu and photo op next to the amazing bronze statue and guests will really feel like they are celebrating in Italy!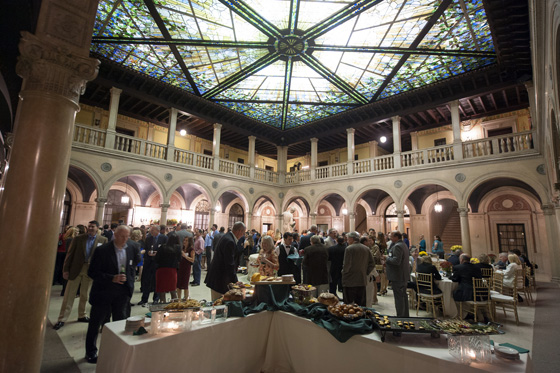 The experienced catering team that services this top Philadelphia venue will know to present Italian dishes in a way that complements the décor and ambiance of this unique location. Rest assured that dinner photos will feature the Renaissance time—one that embraced realism and emotion.
Your guests are sure to exude joy when they visit our Italian Market station featuring roast pork sandwiches with broccoli rabe and sharp provolone. And because we know that every Italian meal should leave guests anything but hungry, we also make sure there are options suited to any dietary needs. For example, we can use collard green leaf wraps to make dishes gluten-free but equally delicious.
Fun Photos in the Library
Libraries aren't just for reading—they inspire creativity and imagination. So let guests find their artistic side in the library. A photo booth is a great way to capture guests at play and send them home with a reminder of the good times. Of course, there are a whole plethora of games and activities that could also show guests a great time, so don't feel limited to a photo booth.
The versatility of the many rooms at The Patio at Archmere Academy means you can customize to match any theme or activity. So set your vision, share your goals and let experienced planners show you why this is among the best Philadelphia venues for private parties.
Energetic, Candid Shots in the Music Room
The Patio at Archmere Academy facilitates a great flow between the main room, music room and patio. This means guests can gather energy from your DJ or band and then take it elsewhere in your event. But be sure your photographer is ready to capture guests as they enter the music room and are filled with positive energy!
Historic Décor and Relaxed Guest Photos
Some say going back in time can remove us from the stress of the modern world. Maybe that's one reason why we see incredibly relaxed guests at The Patio at Archmere Academy. Originally the estate of political figure John Raskob and his family, this historic venue dates back to the early 1900s. Once described as the "Castle of Dreams," this location now attracts prominent figures such as Joe Biden. And because this venue is known to provide impeccable service, every guest will be able to relax and soak up a piece of history.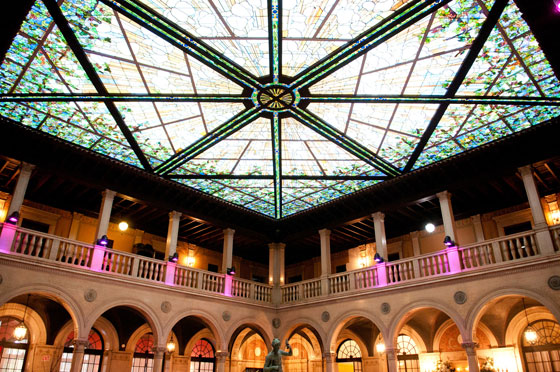 The numerous original rooms with authentic furniture are the perfect place to set up coffee and dessert stations as guests wind down. Warm cobblers are a rustic and welcoming option, but we love to craft any dessert exactly to your taste!
If you want your custom-designed menu and superior service delivered on time and on budget to your next big event, contact our experienced Philadelphia catering team online or give us a call at 610.725.9420.
More Articles You Might Like: