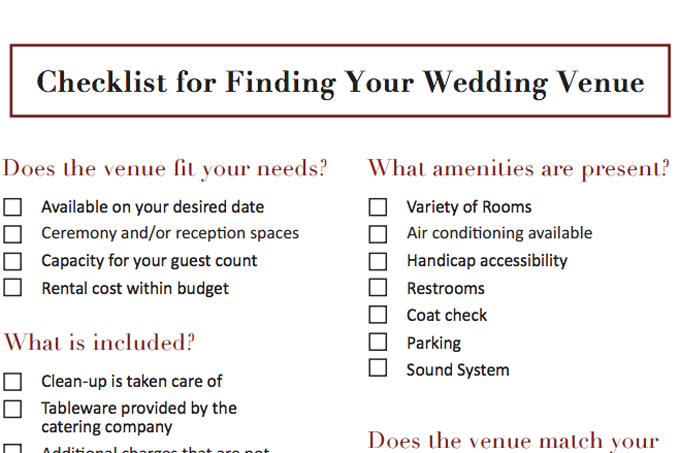 When you preview top Philadelphia wedding venues, there are many things to contemplate and questions to ask. To help you remember key points and prioritize your needs, our professional planners have created a checklist. This will help you compare venues online and in-person. The ideas listed also serve as talking points when you contact your favorite locations for more information.
As you begin to narrow down your options, remember that venue locator tools and wedding checklists are only your starting point. Experienced wedding planners and personal tours of the facilities are what will give you the inside scoop necessary to make the right decision.
Click to see our wedding venue checklist
Questions to Ask Philadelphia Wedding Venues
Can the Venue Host Your Wedding?
Wedding date: Is your desired date available? And if so, will any other couples also be using the venue that day?
Ceremony and reception spaces: Can the venue host both? And if so, how seamless is the transition from one to the other?
Capacity: How many guests is the venue able to accommodate?
Total cost: Will the venue rental, considering all fees, fit your wedding budget? Also be sure to inquire about payment options and the cancellation policy.
How Does the Venue Make Sure Weddings Run Smoothly?
Facility director: Will one be present on your wedding day? If so, is his/her service included in the rental fee? If not, who will take care of any facility issue that may arise?
Transportation: Is public transportation a feasible option for guests? Is a shuttle between the ceremony and reception easy to arrange?
Catering partners: Does the venue have preferred or exclusive Philadelphia catering companies that they trust to service the venue?
Set up time: How early can vendors arrive to set up? This is typically more of an issue at public sites.
Inclement weather plan: For outdoor weddings, is there a backup plan should the weather turn sour? One reason Springton Manor Farm is a popular choice for weddings during any season is because its solid rain plan comes at no additional cost.
Does the Venue Have the Amenities and Facilities You Need?
Variety of rooms: Is there a room where you can keep the kids entertained? What about a bridal suite and grooms room? Is there a cocktail hour space that matches your desired atmosphere?
Air conditioning: Is the venue equipped?
Handicap accessibility: Will all of your guests be able to get around easily?
Restrooms: How many are available for guests' use? We generally like to see at least one restroom per 100 guests.
Coat check: Will this be included? If not, is there a space you can use to set one up?
Sound system: Is one available? Are speakers included? Is it iPod- and laptop-friendly? Are microphones provided for speeches?
Parking: How many spaces are available, and in what proximity to the ceremony and reception site? Is there an additional charge for reserving these spaces?
Will the Venue Allow You to Fulfill Your Wedding Vision?
Hours: How late can your wedding run?
Décor: Are there any restrictions, such as being able to hang lights? Are candles and open flames allowed?
Alcoholic beverages: What, if any, restrictions are placed on the bar service? Some locations will not allow red wines and mixed drinks that present the possibility of stains.
Photography: Are there limits on flash usage? This is most likely to be an issue at museums—and in some of the places you'll most want those photos! Also, now is a good time to inquire about popular photo ops at the venue and ask for examples. For example, The Patio at Archmere Academy has turned out some of the most beautiful bridal party photos on its double staircase.
Music: Are there limits on the volume? Are both DJs and live music allowed?
What is Included?
Clean-up: Will the venue staff deconstruct any decorations you bring in, or do you need to hire staff to take care of this?
Tableware: What is provided? Will your Philadelphia catering company need to supply things like tables, linens, silverware and glassware?
Additional charges: What is not included in the rental fee?The last thing you want is a surprise fee tacked on to your rental bill. From big things like your ceremony rehearsal to little things like wedding liability insurance, make sure you know what is included. You can be up-front on this—we recommend you directly ask the venue to disclose any additional charges.
We hope this wedding reception checklist guides your big day to the perfect venue serviced by one of the premier Philadelphia wedding catering companies! And there is one more thing we want you to think about—was the venue staff happy to answer all your questions? A top caterer and venue will be easy to communicate with through every step of planning a wedding.
If you want a custom-designed menu and superior service delivered on time and on budget to a top Philadelphia wedding venue, contact our experienced catering team online or give us a call at 610.725.9420.
More Articles You Might Like: