We knew that on December 2, 275 guests would arrive to Phoenixville Foundry to enjoy an exceptionally fun party. With air hockey and pool tables to bring out guests' competitive side and a chic and innovative holiday party menu to complement the urban ambiance and eclectic energy of this unique party space, we could not wait to bring this fun event vision to life.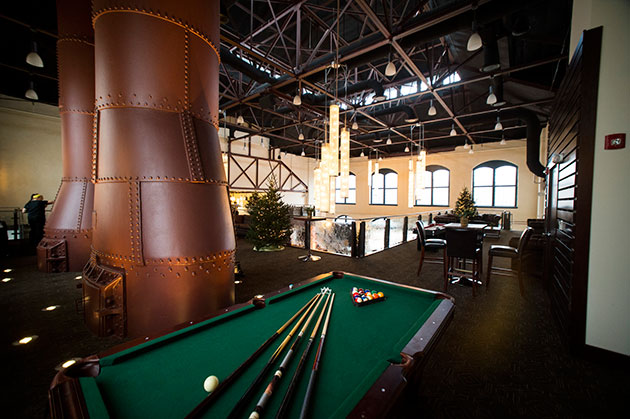 And, sure enough, there was no lull in entertainment or tantalizing food items to choose from throughout the stellar event.
Creative Party Food Items Filled a Prized Philadelphia Venue
Fun Small Bites Got the Party Started
At 5pm, when guests arrived to the 18,000-square-foot Phoenixville Foundry, they were instantly intrigued by their surroundings. From the long chandeliers to the shining tile floors, this industrial venue is filled with magical aspects. As guests got situated in this turn-of-the-century building, we treated them to fine passed hors d'oeuvres.
The cocktail hour was filled with plenty of socializing and exploring while guests enjoyed these scrumptious small bites:
Korean short rib slider: cucumber slaw
Black bean spinach quesadilla: roasted poblano sauce
Mini crab cake: lemon horseradish aioli
Bloody Mary shrimps shot: smoked bacon, micro celery
Scallops wrapped in bacon
Mac and cheese fonduta: roasted tomato puree
While guests mixed and mingled, they also found a bruschetta station artistically decorated with colors that accented the holiday party atmosphere. The marinated tomato basil concasse, eggplant relish, classic olive tapenade and tomato marmalade served with homemade crostini provided guests with no shortage of deluxe items to choose from. And, of course, with a trip to one of the bars, they found the perfect drink to pair with each bite.
Satisfying Dishes Fueled Serious Partying and Playing
As guests' competitive sides revved up playing air hockey and pool, so too did their appetites. Fortunately, the custom menu was designed with this in mind—offering nutritious and hearty menu options with big flavor. Even the salad station was a premier version offered with toppings of candied pecans, cucumber, baby tomatoes, bacon, marinated artichokes, fried shallots and croutons with pomegranate vinaigrette and pink peppercorn dressings.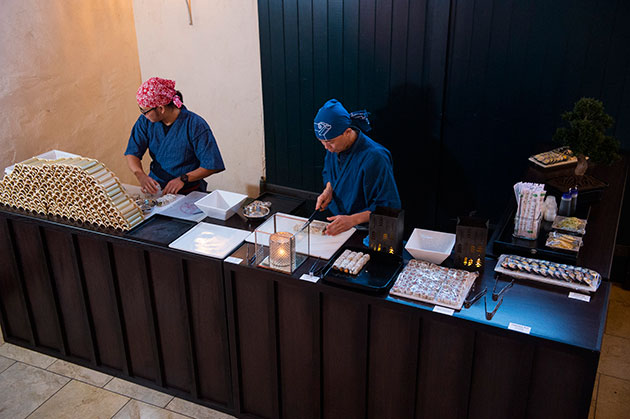 Of course, the gourmet salad was only one of our efforts to meet guests' cravings and appetites. We meticulously arranged small vessels filled with plenty of creativity and satisfying ingredients:
Braised short rib: cheesy white polenta and bourbon barbecue sauce; served in a skillet
Chicken wing lollipop: with chipotle raspberry, traditional buffalo, mango habanero, hoisin barbecue, toasted sesame ginger and sweet chili and coconut curry; served in a petite square porcelain dish
Wild mushroom risotto: tartufo cheese and micro herb salad; served in a balti dish
Sushi bar station: tuna nigiri, salmon nigiri, shrimp nigiri, tuna rolls, California rolls, cucumber rolls and futomaki with soy sauce, fresh ginger and wasabi
Guests Relaxed with Sweet and Savory Late-Night Treats
As the sun set, guests gathered around three fire pits to enjoy assorted homemade cookies and coffee or hot chocolate with toppings of their choice. And, of course, they could build their own s'mores as well. Whatever dessert they chose, they enjoyed it in an idyllic setting filled with good cheer.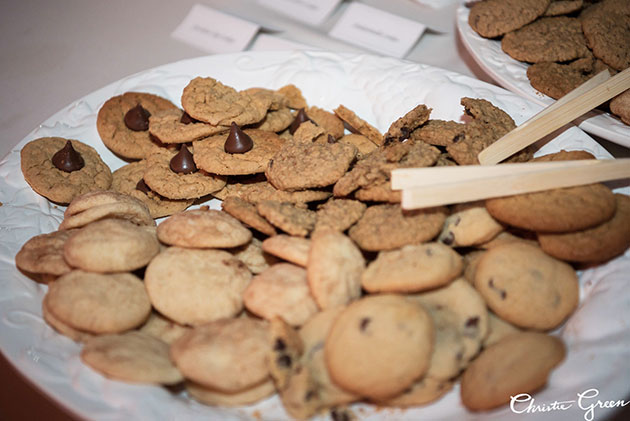 From the elegant silver samovars displaying items to the wooden benches guests relaxed upon, spirits were high even before guests discovered the Philly station with fresh Philly soft pretzels and assorted tasty cakes accompanied by classic yellow and honey mustards as well as hot cheese sauce—the final touch on this extraordinary holiday party.
At 10pm, guests departed with unforgettable memories of fun times shared in an incredible space filled with superior food and service. We are so glad that our team could facilitate such a memorable event.
To custom-design a menu that matches your style and event vision, contact our experienced Philadelphia catering team online or give us a call at 610.725.9420.
More articles you might enjoy: