A big part of planning your company holiday party is designing your custom menu. The style of service you choose depends on a plethora of factors. From guest count to venue layout, our experienced Philadelphia catering team can help you sort through all the key considerations.
Because no two holiday parties are the same, there is no "one-size-fits-all" solution for your event. With your event atmosphere, venue and guest list in mind, our experts will work with you to determine which style of service will help you surpass all your event goals. Let's take a look at some of your exciting options in corporate catering services this holiday season.
Diverse Holiday Parties and Buffets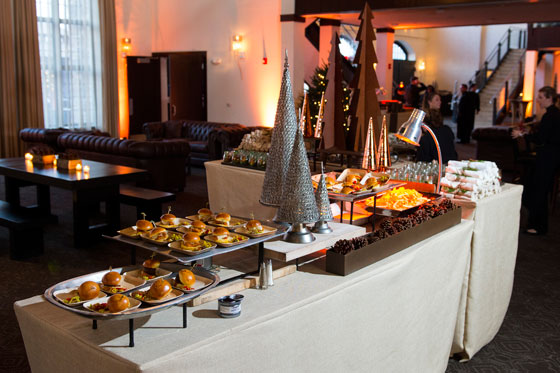 Holiday parties with a very diverse guest list will benefit from a spread of equally unique food. No better way to please everyone from kids to adults than with a delicious holiday buffet. Look at the range of ages and needs rather than number of guests when considering if this is the right style of service for your company holiday event. You may be surprised to learn that buffets tend to be more common for smaller holiday parties (guest counts around 60–80) because they deliver a great variety without extensive staffing. Check out the display of diversity on this buffet menu:
Grilled Lancaster grass-fed beef
Grilled tuna station
Red pepper pesto
Traditional caprese salad
Roasted fingerling potatoes
Corn and tomato salad
What else do we love about buffets? The free flow they facilitate means guests can get food and go for seconds when they want. You can arrange a buffet with lunch options such as roasted chicken breast with prosciutto or chicken caesar salad. Dinner options like beef tenderloin or chicken cordon bleu also work well. Regardless of what time of day your guests dine, we encourage you to offer healthy sides like root vegetables, wild rice pilaf and mixed fruits to keep energy high.
Thanks to their flexibility to satisfy all tastes, buffets create a casual holiday party atmosphere that your employees will definitely enjoy.
Personalized Holiday Cocktail & Hors D'oeuvres Service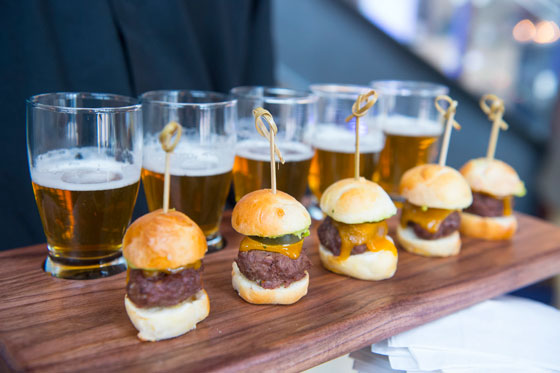 Holiday cocktail services provide a subtle, personal touch to your company holiday party. They do well as themed events that bring a spotlight to interesting holiday party venues like the Phoenixville Foundry. Minimal waste with maximum flexibility—what's not to love?
Hors d'oeuvres like Jack Daniels beef BBQ sliders, BBQ deviled eggs and fried chicken and waffle bites deliver a whole meal's worth of flavor. These small servings of custom bites like Hawaiian pineapple cake or pecan pie are the perfect pair to signature holiday cocktails like a mint Irish whiskey. Together, they are the perfect way to kick off your unique company holiday party.
Of utmost importance to events held at large off-site venues with lots of space to explore, this style of service encourages guests to move about and socialize. Paradoxically, it also brings guests together to enjoy, helping to break the ice when employees' families meet and greet.
Ornate Holiday Plated Dinner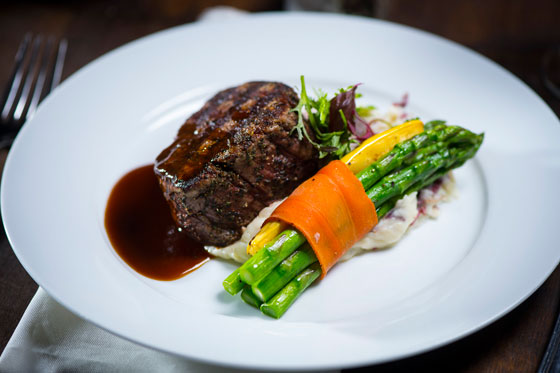 There is no better way to reward employees than by serving them an elegant holiday plated dinner. These take our talented chefs on-site to a popular Chester County holiday event venue to prepare the meals fresh for hungry party guests. Your employees deliver the best customer service, so let them enjoy the same standards from a premier Philadelphia catering company. Plated dinners provide a personal feel and time to savor it—the perfect option for employee-only intimate dinner parties.
Interactive Food Stations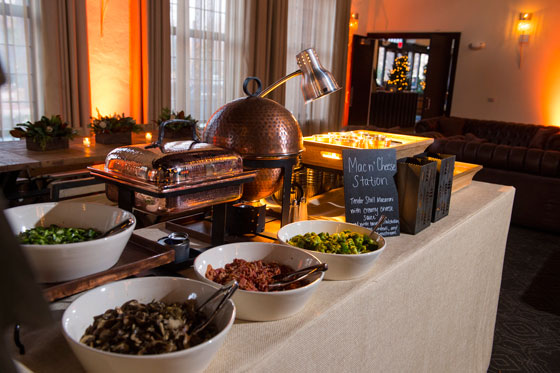 Nothing turns your company holiday party into an engaging experience more than interactive food stations. Our chefs set up in person at your Philadelphia or Chester County event venue and custom-prepare the food in view of your guests. Imagine a "carving station" with chefs slicing up tender cuts of beef or turkey. Picture a macaroni and cheese station with fresh melted cheddar or gruyere and all the fixings of classic American holiday comfort food. Or for an international vibe, choose a freshly rolled sushi bar station. Food station setups make anything possible at your holiday party.
And good news—dynamic stations are not just limited to food. Custom cocktail stations like Nutella hot chocolate or "Fighting Irish" coffee drinks are examples of how stations span the culinary imagination. Employees will keep visiting these stations late into the evening, so plan on a weekend date or reward them with the following day off.
Too many great holiday party service options to choose just one? Don't worry, we can help you settle on one or even combine a few of your favorites for a company holiday party employees will never forget. Contact our experts online or give us a call at 610.725.9420.
More Articles You Might Like:
SaveSave
SaveSave
SaveSave
SaveSave
SaveSave