Some meetings result in new ideas and increased employee motivation—or, simply put, increased productivity! But others flop. So what sets them apart, and how can you get the most out of your next all-day meeting? In search of the answer, you're likely to find work by Alexander Kjerulf—the trusted expert on workplace happiness.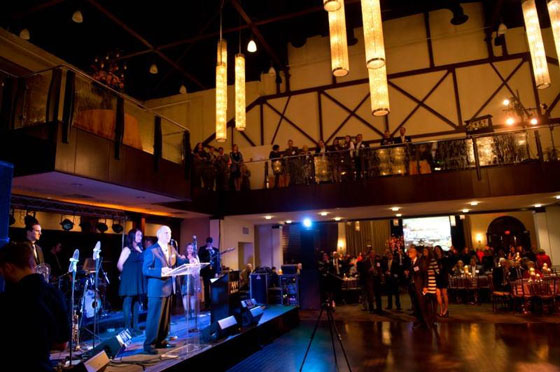 To save you the time of digging through books, keynotes, workshops and articles, our experienced corporate event planners analyzed what makes for exceptionally productive all-day meetings. We found that your corporate menu and venue choices can have a surprisingly big impact on the success of all-day meetings. So let's take a look at how!
What to Look for in Your Company Meeting Location
1. Keep a Positive Vibe
Employees do their best thinking when they are happy, so make sure your company's next all-day meeting is enjoyable. And yes, that is possible. Look for a Philadelphia venue that makes your meeting—and more importantly, your employees—the star of the show! Catering companies play a big role in this because it's their friendly servers who make sure the highest-quality food is delivered with a big smile. But so too does the venue staff! At The Manor House at Springton Manor Farm, your employees will have the full attention of venue staff because your meeting will be the exclusive event on the property that day.
Also, by inviting employees to an exceptional location, you give them something to look forward to. Meeting invitations are not the time to reveal your corporate menu and the fact that you will spoil them with the most delicious and fun food, but you do get to share the meeting's location. And employees will be excited to attend an all-day meeting at The Manor House at Springton Manor Farm. Rich in history, this is likely somewhere they have always wanted to visit!
2. Make It Interactive
If you could be a fly on the wall of a top Philadelphia company meeting, what would you discover? You'd likely find that every single employee is an active participant. They are invested in their company and know their ideas are valued, so they are engaged. Unfortunately, even for the most committed employees, it's hard to stay focused all day. That's why we encourage you to set up interactive food stations at an engaging Pennsylvania venue.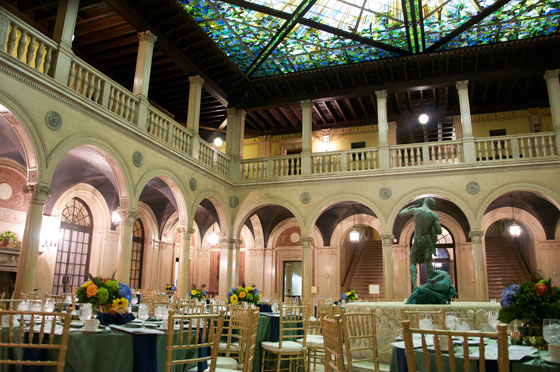 By setting up interactive food stations throughout a venue that is filled with hidden treasures, you remind guests that they have a hands-on role. So why not let them choose their sushi or custom pasta dish from an action station and then encourage them to find a unique photo op? The bronze statue and stunning fountain at The Patio at Archmere Academy are always popular locations for group and individual photos.
3. Create an Inclusive Environment
Make sure employees feel safe to be themselves. This will make them more receptive to others' ideas and help them have the confidence to voice their own. Start by choosing a Philadelphia meeting space with welcoming staff and an inclusive atmosphere. Radnor Hunt is well-known for providing a relaxing countryside setting that makes everyone feel at home. The calm atmosphere and service by trusted partner vendors are cornerstones of many successful company meetings.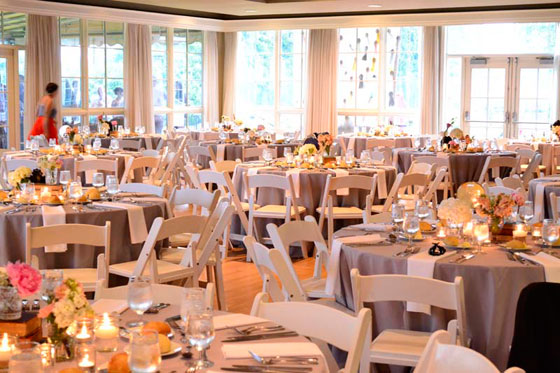 By choosing Radnor Hunt, you also ensure service by a Philadelphia catering company that can make sure your guests with special dietary needs are not forgotten. From gluten-free to vegetarian dishes, your corporate menu can prove that being different isn't a bad thing.
4. Embrace Creative Ideas
The experience employees have at your all-day meeting makes a statement about your company. Is it going to be bland and ordinary or innovative and extraordinary? Philadelphia caterers that are on top of the latest food trends will deliver the right message to employees in a refreshing atmosphere like the Phoenixville Foundry.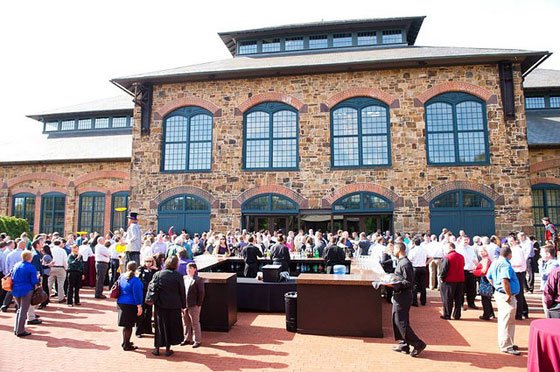 You'll be amazed by the ideas employees return to your meeting with after getting a breath of fresh air and creative small bite during an afternoon break. The vast Phoenixville Foundry is the perfect outdoor space to treat guests to creative snacks like:
Miniature pancake skewers
Prosciutto lobster tacos
Company-branded desserts: Cupcakes or Rice Krispy treats with your company logo
5. Focus on Efficiency
It was Benjamin Franklin who coined the phrase "time is money." And it absolutely applies to all-day meetings. Every minute wasted is an opportunity lost. All-day staff meetings are one of the critical times that successful companies grow, so make every second count. Planning an all-day meeting free of any hassle or glitches may seem tough, but fortunately you don't have to take on this challenge alone!
When you choose one of the premier Philadelphia corporate event venues for your all-day meeting, there is no reason it shouldn't run flawlessly. Your meeting location and the partner vendors it works with should bring creative meeting ideas to life and foster productivity on your big day. Remember, just like in your day-to-day operations, working with the right partners is always one of the keys to success.
If you want your custom-designed menu and superior service delivered on time and on budget to a top Philadelphia corporate event venue, contact our experienced Philadelphia catering team online or give us a call at 610.725.9420.
More Articles You Might Like: