Every year, countless guests are swept away by the memorable experiences shared in Phoenixville Foundry's Cupola Ballroom and Mezzanine This is one of three incredible spaces available in this charming Chester County building. Exuding a relaxing turn-of-the-century ambiance while offering surprisingly modern features, the Cupola Ballroom and Mezzanine has everything you need to bring your event vision to life.
Every chance we get to service corporate and social events held in the vast 8,100-square-foot ballroom and mezzanine is a real treat, and it is one that we are excited to share with you!
An Inside Look at the Cupola Ballroom & Mezzanine's Best Features
Historic Charm Meets Modern Updates
We'd have to take you back to 1882 to find the groundwork for one of Philadelphia's finest event venues—because that is when Phoenixville Foundry got its start with the Phoenix Iron and Steel Company. Today, having transformed and transferred ownership many times, Phoenixville Foundry retains its industrial-era vibe and is listed in the National Register. And this is largely thanks to spaces like the Cupola Ballroom still having original structures in place—notably the Cupola furnaces that speak to its name.
Situated on the banks of the French Creek, Phoenixville Foundry was always primed to be a beautiful event space. Fortunately, the building was restored by PAEDCO and Hankin Group to become a sophisticated modern event space that takes full advantage of its incredible location and history. When you tour the Cupola Ballroom and Mezzanine, you will find everything you need to effortlessly execute your event plans. Your Philadelphia catering company will appreciate access to the commercial kitchen, and your entertainers will relish in the state- of-the-art sound and lighting systems as well as the high-speed WiFi and great audiovisual equipment on-site.
A Vast Space Lets Creative Event Visions Soar
The industrial chic design and a neutral color scheme found throughout the airy Cupola Ballroom and Mezzanine allow your most creative décor ideas to flourish. In this flexible space suited to a variety of event themes, our talented team can help you extrapolate your most innovative ideas. By designing a custom menu and helping you choose a fitting style of food service and table configurations, we will further elevate the memorable experience up to 160 seated guests can enjoy.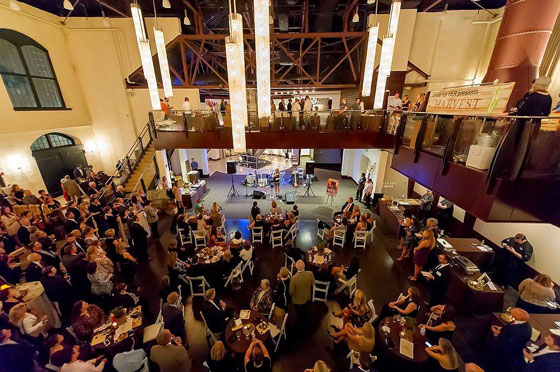 With indoor and outdoor spaces as well as the ability to close off areas to create secluded venues, event planners have no problem nailing the perfect event flow. Hold your main event inside the ballroom and then feel free to take your pre- and post-party photo ops and activities outside to the Sculpture Garden or Phoenix Column Truss Bridge.
Bold and Beautiful Design Impresses
From a grand foyer to an eye-catching double stairway, the architecture and design of the Cupola Ballroom and Mezzanine call for few additions. Readily personalized to match your style yet striking in its own right, this is already an immaculate event space. Guests are captivated as they look up at the 60' high open ceilings and hip shaped roofs, out the clerestory windows and down at the 24' x 32' dance floor. The charming features continue up to the mezzanine that overlooks the elegant dining space and through the private hospitality suite.
Remarkable Photo Ops Delight Guests
Philadelphia is filled with unforgettable vistas, but not all of its wonderful event venues offer as many as the Phoenixville Foundry's Cupola Ballroom and Mezzanine does. With historic structures and natural views found throughout, guests have no problem capturing unique moments among these distinct backdrops. Some of our favorite photo ops that events held in the Cupola Ballroom have access to include:
By the wooden cantilever crane: Still in its original location, this impressive structure offers one-of-a-kind photo ops.
On the column truss bridge: Crossing over the French Creek, this is the perfect location for couples' first looks.
In the sculpture garden: Among lush grass and by the wrought iron Phoenix Columns, couples are at ease—allowing their joy and intrigue to come forth.
A custom menu and carefully thought-out event plans make the most of top Philadelphia venues. To realize your event dreams in a remarkable space like Phoenixville Foundry's Cupola Ballroom and Mezzanine, contact our experienced Philadelphia catering team online or give us a call at 610.725.9420.
More articles you might enjoy: