Go back to Saturday, January 27, 2018, and the halls of Phoenixville Foundry were bustling with energy and innovation. Whether you joined us or only heard about the action, the 9th Annual Chester County Bridal Showcase is worth revisiting. While guests stepped up to the whiskey and cigar bar, relaxed in the lounge and met top wedding vendors, they enjoyed the fine food and service that our experienced team is trusted to deliver.
Learn how a carefully designed floor plan and creative custom menu maximized guests' experience at this bridal showcase.
Facilitating a High-Impact Bridal Show at Phoenixville Foundry

Showcasing a Great Variety of Wedding Vendors
The 115 guests who came to this top bridal show had three hours, from 11:00am–2:00pm, to meet all the phenomenal local vendors in attendance. Like any premier bridal show, there were a great variety of professionals and services on display. And it was our job to make sure our catering services kept guests engaged, energized and moving about. The foundation for this was a solid floor plan that dispersed vendors, beverages and food offerings.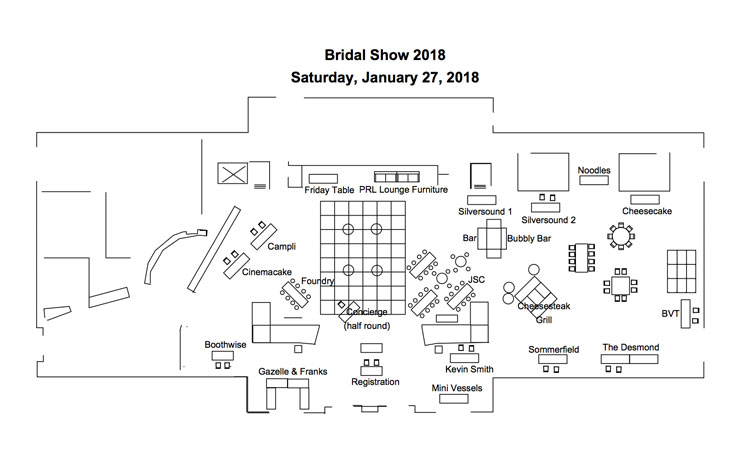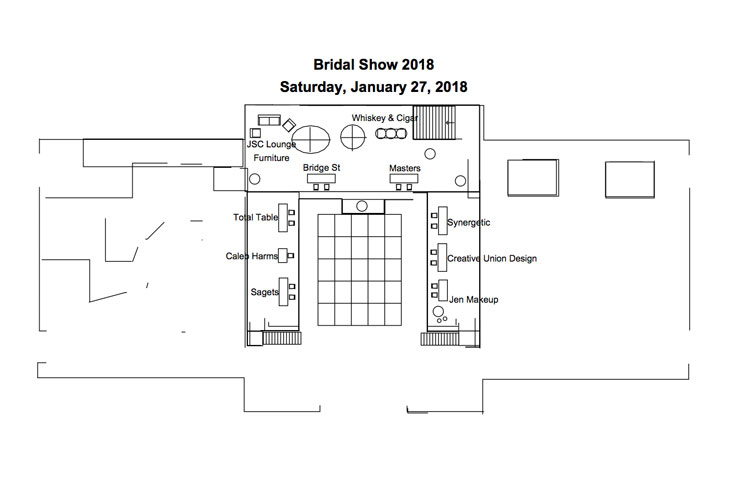 Notice the exceptional diversity of wedding services that gathered at Phoenixville Foundry—from essential needs like those provided by Synergetic Sound & Lighting and Total Table to sweet offerings from Bridge Street Chocolates. This bridal show covered all the bases. And it did so in a fun and engaging way, with guests snapping fun photos, testing out airbrush make-up by Jen Farhood and visiting our chef-attended action stations.
Giving Guests an Elevated First Sip
One of the first offerings to catch the eyes of guests as they moved about the vast Phoenixville Foundry space was the whiskey and cigar bar. We provided a barrel bar and plank setup and a friendly attendant to pour the whiskey into single rocks glasses with ice. When it comes to selecting which great whiskeys to showcase at events, we frequently recommend our clients seek the advice of Frank's Wine—they always find one that perfectly pairs with your desired event atmosphere.
Keeping Guests Moving with Passed Hors D'oeuvres
With our professionals circulating the room and offering delicious small bites and plates, guests were immediately mixing and mingling as they explored everything that the bridal showcase had to offer. Chatting with other guests and imaginative vendors, we knew the latest wedding trends and creative ideas would come forth. In light of this, we put together an exceptionally innovative and satisfying array of appetizers to help wedding dreams flourish:
Duck confit flatbread: onion marmalade, rosemary whipped goat cheese
Gluten-free smoked trout: sweet potato chip, horseradish dressing
Pulled pork benedict: smoked bacon, cheddar, chipotle aioli
Buffalo fried tofu: crisp celery root & spicy ranch
Crisp pork belly: parsnip puree, cider sauce
Sweet frites: bourbon vanilla cream
Demonstrating Exemplary Service at Interactive Stations
To complement the exciting atmosphere of this top bridal showcase, we set up four dynamic food stations as well as an enticing cheesecake station. Each guest got a taste of how our mini vessel food stations can delight guests with an unforgettable culinary experience that spans across cultures and tastes. Guests stepped right up to the following action stations:
Traditional shrimp and grits: spiced shrimp, creamy grits
Curried shrimp and vegetables: with saffron rice
Asian noodle bar: choice of lo mein, udon and ramen noodles with sliced pork, ginger shrimp or pulled pork and soy sauce, chopped scallion, sriracha, sesame oil, sambal, broccoli, carrot, hoisin, lime wedges, pea shoots, green beans and cucumber.
Cheesesteak grill: with guests' choice of American, provolone or cheese whiz cheese as well as sautéed onions, sautéed mushrooms, sweet and hot peppers, ketchup, mayonnaise and hot sauce.
Showcasing Endless Beverage Options
As vast as the array of wedding vendors at this bridal show were the choices of delicious drinks. Refreshing in style and taste, the beverages found at both the standard bar and bubbly bar boosted guests' energy and enthusiasm. Each attendee found the perfect pairing to every dish—although the Blood Orange Moscow Mule and Citrus Sangria with fresh mint garnish were top picks all by themselves.
Putting Memorable Finishing Touches on a Top Event
Just like the beautiful flowers and elegant linens that put the finishing touches on the already glamorous Phoenixville Foundry event space, scrumptious desserts capped off our incredible catering service. Guests loved the cheesecake served in porcelain dishes with their choice of six different fruit purees, fresh fruit, coconut, chocolate chips and whipped cream. Guests' sweet experience ended on a real high with the 70 boxes of macaroons.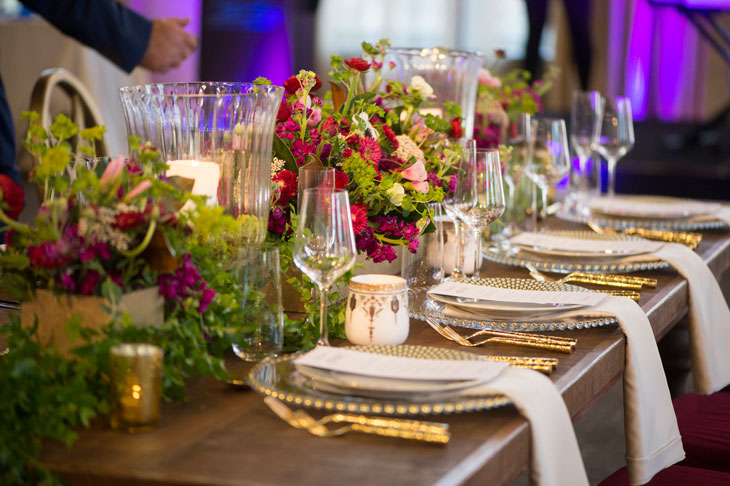 Designing creative custom menus with great flavor and flare is only one way that our experienced team elevates guests' experiences at Philadelphia events. To enlist the full support of our experts, contact our experienced team online or give us a call at 610.725.9420.
More articles you might enjoy:
SaveSave