With 2013 coming to a close, it's time to predict our top ten catering and design trends for 2014. Coming up with these types of lists is always enjoyable because they start conversations as well as provide ideas for future brides and grooms. Listed below are numbers 10 through 6 of trends we feel will continue to grow in popularity or start to emerge in 2014. Be sure to check back later this week for our top five!
10.) Signs
Signage has become hugely popular at weddings and we feel it will continue to grow in 2014. There have been signs used for guiding guests where to go as well as signs with the bride and groom's name and wedding date or cute sayings. J Scott Catering often uses signs handwritten on chalkboards to describe our food stations. These types of signs add to the overall atmosphere of an extraordinary day.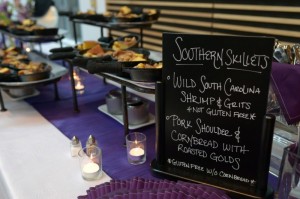 9.) Sparklers and Fireworks
Confetti, rice, and bubbles are things of the past. Sparklers and fireworks are all the rage now not only because they look amazing in photos, but also can be purchased at a reasonable cost. Guests will love the gorgeous visuals and the priceless photos to remember the night.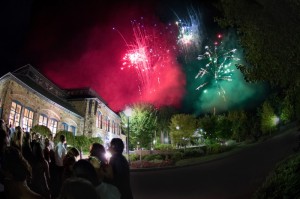 8.) Themed Weddings
Theme-specific weddings have started to become a popular choice among couples and J Scott Catering has catered a few this year. One specific example was Brianna and Trevor's carnival-themed wedding that took place at Phoenixville Foundry in September. There was a fortune teller, trapeze lady, and beautiful circus-themed décor to make this wedding a fun affair for guests. We feel that this trend will continue to grow in popularity in 2014 as it gives the wedding a unique feel.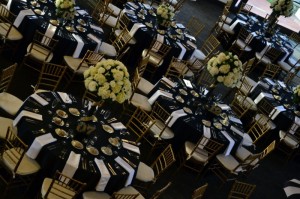 7.) Food Stations
Sit down dinner has always been the traditional way to serve during a reception. Now, more weddings have gone the food station route, by offering various choices of food items rather than a limited menu. J Scott Catering has seen a rise in offering fresh, local food items from farms in the surrounding community. Tapas and chef tables have become a preferred choice among guests as well.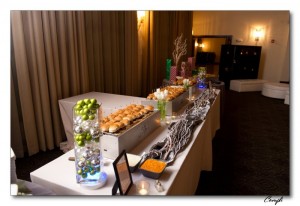 6.) Unique Table Numbers
One way the bride and groom can showcase their creativity is through table numbers. One example of a fresh idea that Laura and Ben came up with for their wedding this past September, was taking pictures of themselves using creative ways to point out the table number. They took a picture of themselves next to the Washington Monument for table one, a picture of them wearing DeSean Jackson's football jersey for number 10 and so on. We wrote a blog post recently about their amazing wedding which can be viewed here.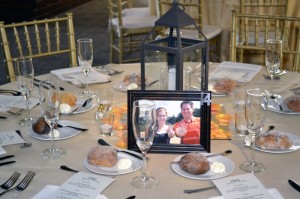 The countdown from numbers five through one will be posted later this week, so check back soon!