One enjoyable aspect of being a wedding planner is the ability to incorporate hot new industry trends. J. Scott Catering was able to witness some of these trends this past weekend as Laura and Ben celebrated their wedding reception at Phoenixville Foundry. The bride and groom wanted to implement their creative ideas and their personal, well planned attention to detail resulted in a spectacular reception.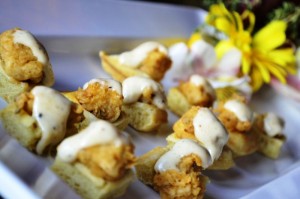 After a beautiful wedding ceremony, guests made their way into the magnificent Cupola Ballroom for cocktails and butlered hors d'oeuvres. Some American home-style classics included golden fried chicken and waffles in savory sausage gravy, barbeque braised short ribs on a crispy Yukon chip drizzled with shallot rings, mouth watering BLT sandwich squares, and mini meatloaf bites topped with creamy smashed potatoes and sour cream. Fresh seafood was also featured, including sea scallops wrapped in cherry bacon, and grilled Spanish shrimp in a Tasso ham blanket. For guests seeking oriental cuisine, an Asian chicken lettuce wrap station was on display. The wraps were served with sambal, toasted peanuts, crisp wontons, grilled wok vegetables, and a hoison scallion dipping sauce.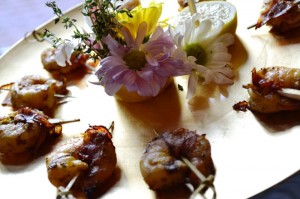 The first course of a baby spinach salad was topped with grilled mushrooms, red onion, ripe tomatoes, cherry bacon, and drizzled with honey Dijon vinaigrette. Guests had a choice of three delicious entrees. The first included a Boursin cheese stuffed chicken breast topped with wild mushrooms, fried leek confetti, and rich porcini broth. A pan seared filet of beef sprinkled with garlic and drizzled with rosemary merlot Demi glace served as a second option. For entree number three, the menu offered a vegetarian selection featuring grilled eggplant with roasted onion and tomato, served over a garlic quinoa and vibrant herb vinaigrette. All of the entrees were accompanied by grilled asparagus and "Simply Marvelous" creamy mashed potatoes.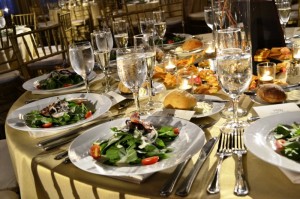 After dinner, a gorgeous three layer wedding cake provided by Clay's Bakery was cut and enjoyed by all. To top off the evening, guests were able to enjoy mouth watering cheesesteaks from our grill after they had danced the night away.
The creative, well-planned preparation and attention to detail were certainly evident throughout the entire reception. Polaroid guest books have been a hot trend within the industry and were available for guests to capture and remember the special night. Each guest received a hand-folded origami place card shaped as a miniature chair, inviting them to "Please Take Your Seat".  At the end of the evening, the guests received a CD which included a personalized selection of the bride and groom's favorite songs.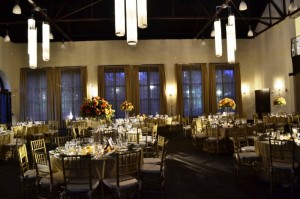 J. Scott Catering would like to thank the vendors that helped make this wedding ceremony and reception at Phoenixville Foundry a success. We would also like to congratulate Laura and Ben on their beautiful wedding and wish them all the best in the future!