We love using every client's unique style and event vision to serve as inspiration for their custom menu. And we also appreciate how each season sparks our culinary creativity. Our passion lies in combining these by presenting the latest food trends and seasonal ingredients in creative ways that reflect your personality.
Prepared in our state-of-the-art facility and cooked on-site, only the highest-quality farm-to-table cuisine comes from our Philadelphia catering team. So let's check out some of our experts' favorite seasonal pairings!
Top Seasonal Food and Beverage Pairings for Philadelphia Events
Brilliant Spring Food and Wine Pairing
Spring is the season of extraordinarily vibrant colors and flavors, so let them shine through in your menu choices. You can always use colorful fruits and vegetables to bring color to plates. But we love to think outside of the box, so we suggest pairing a beautiful pink fish—Ahi tuna—with an equally pretty wine. Our chefs cook this fine fish to perfection and delicately place it upon sesame-marinated vegetable confetti displayed in small white vessels.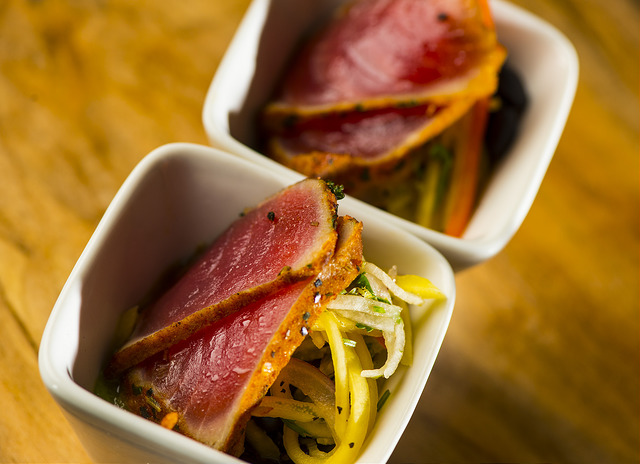 Your guests will appreciate the lovely, artful presentation even more while enjoying a Spanish rosé. This pink-hued wine is equally beautiful, refreshing and—according to the NY Times—popular. And it perfectly completes a zesty spring menu!
Festive Summer Food and Drink Pairing
You are ready to kick back, relax and celebrate—can we even say party? Summer events are always exceptionally fun, and there is no better way to guarantee this than by designing a creative menu filled with innovative finger foods. Plan on clever displays of mouthwatering small bites that put on a show, and then get ready to party in a premier Philadelphia venue—likely one that takes your guests outdoors!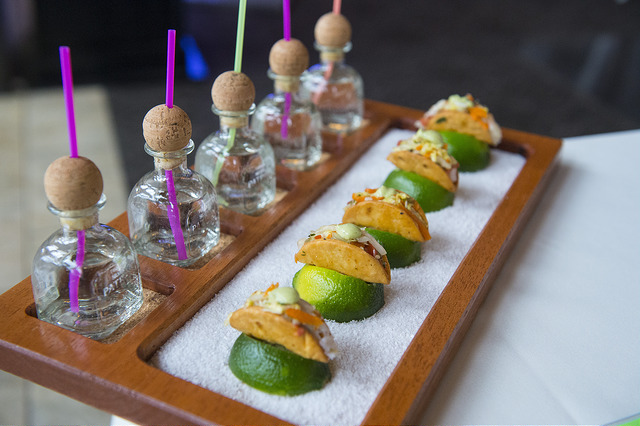 Imagine our pulled chicken tacos with lime crème fraîche and napa slaw artfully presented on limes. As good as that sounds, the party in each guest's mouth has only just begun. Pair these with mini patron tequila bottles and your summer event is off to an unforgettable start!
Rustic Fall Food and Beverage Pairing
Fall is one of the most intriguing, even perplexing, seasons. From the change of temperature and color of leaves to the unique root vegetables and seasonal spices, there is plenty of inspiration for rustic fall events. Give your guests a rich yet delicate bite that is eloquently satisfying. Our chefs suggest fig with whipped goat cheese, pancetta and drizzled honey. And be sure to pair this creative dish with an equally complex cocktail. Made with rum, lime juice, grapefruit juice and a splash of Marciano cherry, the Hemmingway is a great fit.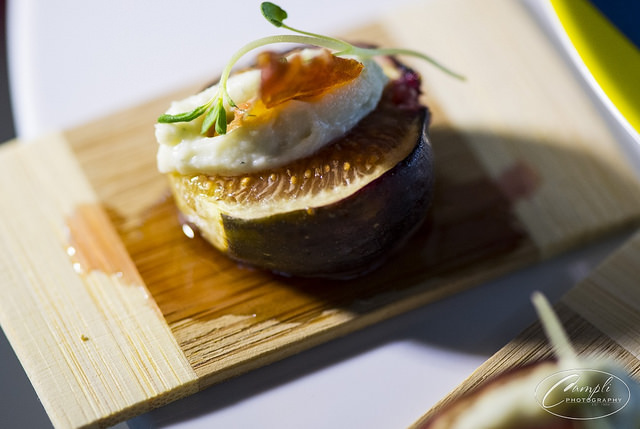 And, of course, as with every aspect of a rustic fall event, you'll want to pay close attention to the presentation. Polished rustic boards—passed or stationary—are the perfect way to display delicious small bites while adding to your elegant rustic atmosphere.
Warming Winter Dessert and Beverage Pairing
You are probably thinking about which alcoholic beverages you can offer to warm up your guests on a chilly Philadelphia evening. Great idea! But, as always, we encourage you to expand your creativity. Our culinary experts can help you carry your idea into a creative dessert like our chocolate whiskey cake with macerated raspberries and smash raspberry compote. Presented in a glass jar and topped with a dusting of powdered sugar, this dessert will warm up any event.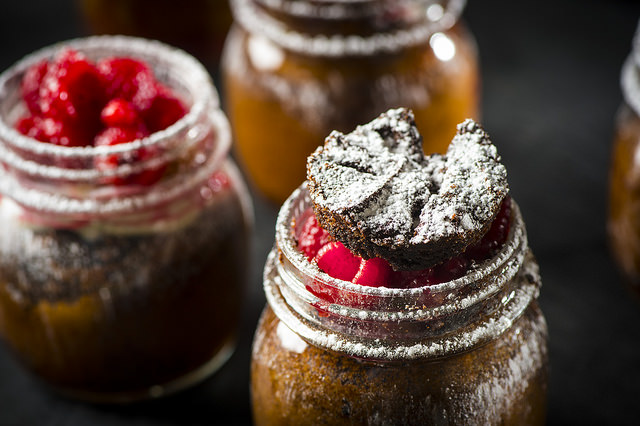 Guests always love to find a hot cocoa station near the dessert table. But whether you set one up or not, be sure to have peppermint hot chocolate on hand for guests to enjoy with this rich dessert.
If you want more delectable food and drink pairings woven into your custom-designed menu and artfully presented by our skilled professionals, contact our experienced Philadelphia catering team online or give us a call at 610.725.9420.
More articles you might enjoy: