When a couple first sits down to plan their menu the task can be daunting with what seems like endless possibilities.  With a little guidance from our knowledgeable staff the process becomes easy with great recommendations, tips for creating a crowd pleasing menu and the reminder to trust your instinct when making final decisions.
Lauren & Paul visited us on Sunday with their families to taste their choices for their fall wedding at Greystone Hall in West Chester, PA.  J. Scott Catering's unique concept for tastings removes the unknown and provides a realistic experience of the big day in terms of food.
For their passed hors d'oeuvres the couple chose Moroccan beef skewers, mini meatloaf bites with sour cream and bacon, asparagus prosciutto wraps, herbed shrimp cocktail and wild mushroom crostini drizzled with peppered honey.  One of our newer passed hors d'oeuvres was also included, the crab and mango salad in crisp apple cup.
The couple chose a baby spinach salad with grilled mushrooms, red onion, tomato and cherry bacon with a touch of goat cheese all drizzled with honey Dijon vinaigrette.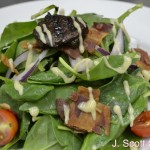 The main course offered the couple and their families a taste of baked apricot and brie stuffed chicken breast with champagne sauce, pan seared lump crab cake with pineapple relish chipotle aioli and pan seared strip steak with garlic port butter.  Flavored butters like the garlic port featured with the strip steak are a fun way to spice up an already great cut of meat.  For the vegetarian guests, the couple chose grilled eggplant with roasted onion and tomato served over garlic quinoa and vibrant herb vinaigrette.
With no meal complete until dessert has been enjoyed, the couple and their families feasted on Clay's bakery cakes, assorted cookies and dessert bars.  We truly appreciate the couple taking the time to come in and sample the menu and we look forward to celebrating with them in the fall.