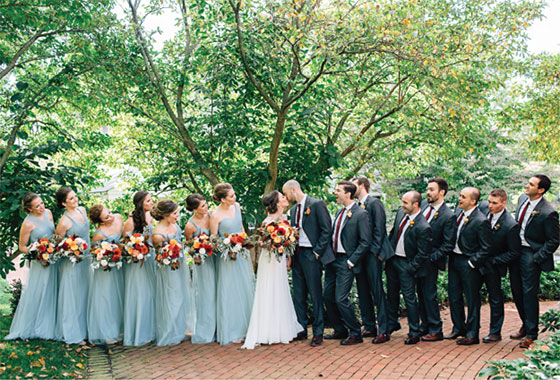 Recently, J. Scott was delighted to take part in Chris and Samantha's extravagant autumn wedding. Their celebration was the focus of this recent article in Susquehanna Style.
The event featured a distinctly autumn atmosphere with assorted tones of copper, burgundy and mahogany. Aerial elements such as geometric orbs and leaf garlands also contributed to the outdoor aura of the setting—The Farm at Eagles Ridge in Lancaster, PA. J. Scott helped to arrange an astounding menu for the event that included braised espresso-rubbed short ribs, halibut and grilled eggplant with sweet potatoes.
J. Scott is intensely passionate about producing perfect wedding events just like Chris and Samantha's celebration throughout the Philadelphia area. Our success is the product of our wealth of creativity and experience, our dedication to being constantly responsive to our clients' needs and an absolutely unrivaled attention to detail.
To get started planning the wedding of your dreams, click here or give us a call at (610)-725-9420.
More Articles You Might Like: