It's hard to believe that the end of summer is fast approaching!  It seems like yesterday we were busy planning graduation parties and backyard barbeques.  Thankfully, we still have some warm weather to look forward to before the leaves begin to change! 
For those of you who may be hosting friends and family for one last get together before cooler weather sets in, we thought we would provide you with some interesting beverage options.  We have found these drinks to be a hit with our clients and would like to share them with you! 
A favorite drink this summer has been White Wine Sangria infused with fruit served in a pitcher or cambrio beverage dispenser.  Warm-weather fruit continues to be plentiful which makes for an attractive presentation with little effort. You may even want to add some sparking water to make it a spritzer!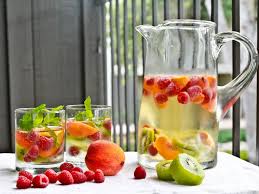 Lemonade is in! We have offered several flavors to our clients, but the most popular flavors  are Vanilla Rosemary and Watermelon.  Again, little effort, lots of flavor.  Here are our time-tested, non-alcoholic recipes! (Feel free to add your favorite spirit too!)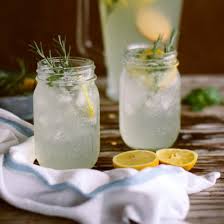 Vanilla-Rosemary Lemonade
1/2 cups sugar
1 vanilla bean, split
3 small fresh rosemary sprigs
3 cups water
3 cups fresh lemon juice (about 26 to 30 lemons)*
Garnish: fresh rosemary sprigs, lemon slices (optional)
Preparation
Combine sugar, vanilla bean, 3 small fresh rosemary sprigs, and water in a medium saucepan. Bring to a light boil over medium heat, stirring occasionally. Simmer 5 minutes. Remove from heat, and let cool 30 minutes. Pour through a fine wire-mesh strainer into a large pitcher, discarding solids. Stir in fresh lemon juice. Cover and chill 3 to 48 hours. Stir just before serving over ice. Garnish, if desired.
* 3 (7.5-oz.) containers frozen lemon juice, thawed, may be substituted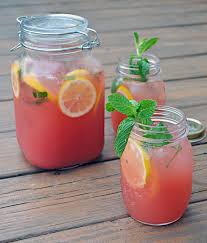 Watermelon Lemonade
Yield: 4-5 servings
Ingredients
4 cups seedless watermelon, chopped
1 1/2 cups lemon juice
1/2 cup sugar
6 cups cold water
Preparation:
Blend together chopped watermelon and lemon juice in blender until very smooth.
Pour into large pitcher. Add sugar and cold water and stir well. Pour over ice.
Now that we have the beverages taken care of, what about the food?  Nothing says "End of Summer Party-Philly Style", like having Wiz Wit cheesesteaks!  We bring the grill and the classic – and some innovative – ingredients to create mouthwatering, Philadelphia-style sandwiches. Plus, we offer all of your favorite barbecue menu options with a gourmet twist.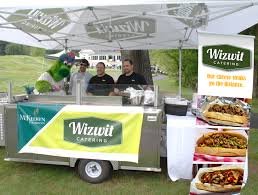 We hope you enjoy these last few days of summer surrounded by family and friends!