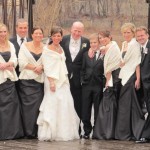 Photo Courtesy of Phoenixville Foundry
We received this glowing review from our fantastic bride this weekend at Phoenixville Foundry, Gina.  At J. Scott, providing a wonderfully memorable experience is very important to us.  We are so happy that Gina and Andy's wedding was all they dreamed and more.  Best wishes to the happy couple and enjoy the honeymoon!
Hi Scott and Jaclyn,
We are off to St. Lucia, but I just wanted to send a quick note to say thank
you for everything on Saturday! Everything was just absolutely wonderful.
From the outstanding food to impeccable service to wonderful bartenders to
the personal attention that was given to me and Andy to your oversight of
everything. We could not have asked for a more perfect day and reception!
Thank you so much for all of the work you've done with me over the last
several months and for your attention to every single detail.  Thanks so
much to you, our wedding day met and far exceeded our expectations!
You should know that we received many compliments on the food, the service,
and the bartenders. Particularly, my brother and sister-in-law raved about
one of the servers. I can't remember her name, but she has glasses and dark
hair. They said that she was wonderful with the little boys… That she
brought a special plate of food to them, helped to get them (and their
coloring books/activities) set up at the dinner table, was constantly
checking to see if they needed anything, and was always checking with them to see if she could do anything to help. Please pass that along to
her along with our thanks!
Last, my Dad was blown away and impressed with everything! They wanted everything about our day to be perfect. Well, it was!  In
my Dad's words, "I don't think anyone could have one bad thing to say about
the wedding!" 🙂
Our flight is taking off in a few minutes, but I just wanted to make sure to
send this quick note to you before we left.
Thanks again, so very much, for everything and for helping to give me and
Andy a beautifully, perfectly wonderful day!
Love,
Gina