Phoenixville Foundry celebrated their 5th Anniversary this past weekend and J Scott Catering had the privilege of coordinating and catering this memorable event.  This was the perfect opportunity for J Scott Catering to not only showcase our talents to members of the industry in attendance, but also to honor the prestigious Phoenixville Foundry and staff for consistently raising the bar in venue excellence.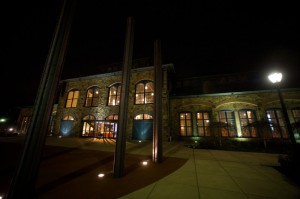 Guests enjoyed a sampling of menu items that represent the past, present and future of the Phoenixville Foundry.  Caviar served with toast points on an aspen spoon and accompanied by ice cold vodka, oysters dressed with mignonette sauce served on shaved ice with a lemon wedge and Italian-style roast pork on a pipette filled with au jus were butlered as guests arrived. Breakfast spoons that featured a fried quail egg with maple-crusted bacon and topped with Sriracha; prosciutto lobster taco cone with thinly sliced prosciutto, diced cold water lobster served with citrus salsa in a corn chip cone and a chalkboard cheese tray offering a variety of special cheeses was also served.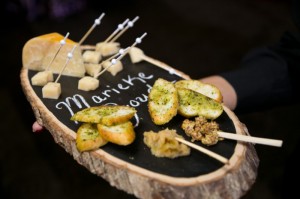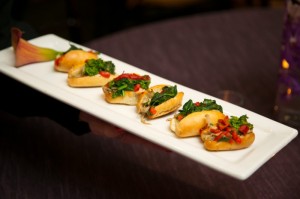 In the Mezzanine, stationary hors d'oeuvres were displayed on our unique black ladders.  A New York Trio that featured mini Reuben's, bagel flat with lox, and Coney Island hot dogs served on a bamboo trio plate were presented on the first ladder.  The second included mini silver crudité pails filled with various vegetables and accompanied by a roasted red pepper dip.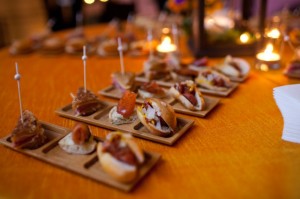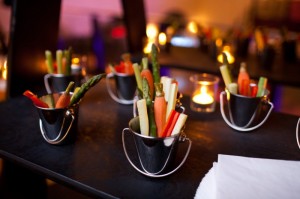 A variety of menu options were available to guests throughout the Cupola and West Ballroom.  Our entertaining artisanal pizza station featured live pizza tossers and four delectable pizza selections including artichoke and goat cheese, roasted vegetable, mild Italian sausage and roasted bell pepper, and arugula, fried egg and aged balsamic.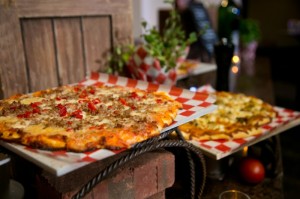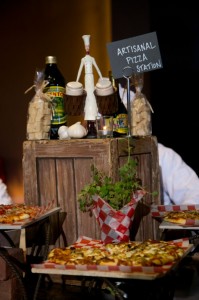 Our rustic farm stand station combined the best the earth has to offer to our guests who prefer vegetable options.  Vegetable dishes were served in mini cast iron pans with individual pot holders. The vegetarian options included goat cheese gratin, farmhouse vegetable barley soup and polenta cake with mushroom sauté, arugula, cheese, and truffle oil.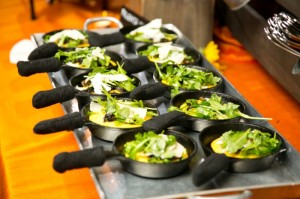 Playing off Phoenixville Foundry's past life, the schematics station featured butcher paper with drawings and directions on crafting the ideal burger.  With pre-made selections or the option to create your own, this station offered an interactive element to a classic dish.  Guests could choose between 100% Black Angus ground beef or turkey burger with the choice of three different buns, four delicious cheeses, eight tasty toppings and five optional sauces.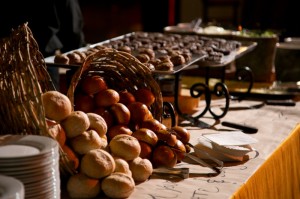 After guests sampled a diverse selection of flavors from our beautifully decorated dinner stations, desserts and coffee were offered in the Mezzanine.  Individual martini glasses filled with Chef Erin Morrison's famous homemade cheesecake was served alongside various mouth-watering toppings from which to choose.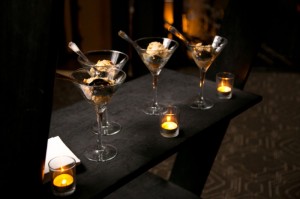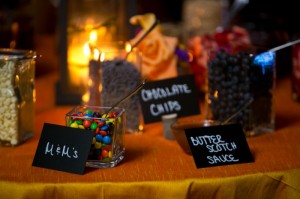 Along with the array of enticing dinner stations and hors d'oeuvres, guests were entertained by performances from BVT's All About Me, music from DJ Adam Moyer of Silversound Entertainment, photo opportunities by Campli Photography and TapSnap.  Throughout the evening, guests were served our signature drink 'Celebritinis' from a construction worker provided by Creative Juices.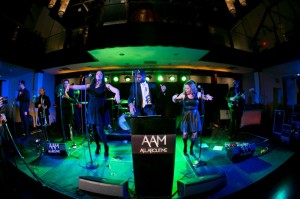 We would like to thank the Phoenixville Foundry staff, The Hankin Group and Bob Tomasso for allowing us to coordinate a spectacular historic event.  We would also like to thank the sponsors, vendors and staff at J Scott Catering for their hard work which contributed to the event's success.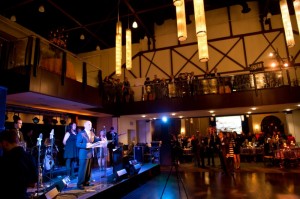 Photos courtesy of Campli Photography. To view the full album of pictures taken by Campli Photography click on the link here. We also have some pictures and videos taken on J Scott Catering's Instagram account! Be sure to check them out as well!