This past Tuesday, the 2013 AFR Showcase and Networking Tour was held at the National Museum of American Jewish History in Philadelphia. J Scott Catering teamed up with South Jersey Party Rental to create some vintage contemporary samples of their elegant décor and our delicious food options. The theme of the event was "Design and Inspire", and that's exactly what J Scott Catering set out to accomplish. This occasion provided us with an excellent opportunity to network and showcase what we have to offer to over 200 guests in attendance.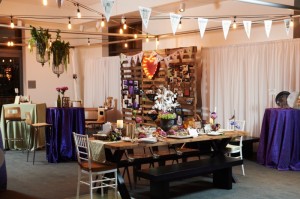 As the guests arrived, they were enticed with mini chicken tacos stuffed with black bean puree and pico de gallo. Stations beautifully displayed with rustic purple décor were set up throughout the entire venue. Three skewer stations included grilled vegetable with Muhammara and toasted pita, grilled Moroccan beef with spicy chick pea sauce, and grilled Middle Eastern chicken with honey soy sour cream.
A braised short rib bento box display of make your own sliders was also featured which included braised short ribs, brioche slider buns, wild mushroom and arugula salad, four hour onions, fried shallots, apple jicama slaw, moody blue cheese, pickled jalapeno, roasted Brussel sprouts, and braised fennel. Three sauces were offered; horseradish sour cream, toasted Ancho BBQ sauce, and roasted shallot sage puree.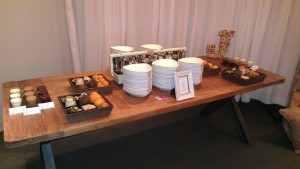 We received positive feedback about our food from guests throughout the night.  One guest in attendance told Monica, our event planner, "Your food was delicious!!! Loved the sliders…. Great presentation too!!" Another said "THANK YOU to all of our sponsors at the 2013 AFR Event Furnishings Philly Networker for the incredible job they did on Tuesday night! From the beautiful designs to the amazing catering, your hard work and creativity truly paid off and made this event a huge success! Thank you again for all that you did to create this awesome event!!!"
We would like to thank Gabe Fredericks from Philip Gabriel Photography for the beautiful photos in this blog. We would also like to thank South Jersey Party Rental for working with us to create a gorgeous display to showcase, AFR for allowing us to be a sponsor, and our hard working staff for making this event such a success!