As an exclusive caterer in the Greater Philadelphia area, all wedding menus we design are custom. They highlight seasonal farm-to-table finds and are ultimately geared towards meeting the unique desires of each couple.
Prior to the wedding, sometimes even prior to booking, each couple is invited to enjoy a tasting to sample our cuisine, ensuring their wedding menu checks every box for the big day.
If you're a foodie, know you're in good hands with us! Previous bride Emily says:
THE FOOD WAS AMAZING!!!! In fact, we still have friends and family talking about the bountiful hors d'oeuvres and delicious entrees! So, for all the foodies out there, J. Scott totally serves up quality!

-Emily, 11/17/2018, via Wedding Wire
We've compiled some of our most popular menu items so you can start to dream up what your ideal wedding day menu may look like!
Hors D'oeuvres for Your Philadelphia Wedding Menu
Following a romantic ceremony, there is one thing all guests make a beeline for: the hors d'oeuvres! These tasty bite-sized appetizers will set the stage for your evening while everyone mingles.
J. Scott Couple Favorites: Hors D'oeuvres
Shrimp Cocktail

Candied Bacon and BBQ Pork

Watermelon, Feta and Blackberry Skewer

Grilled Chorizo Red Pepper

with Red Wine Honey Glaze
First Course Wedding Menu Ideas – Soups & Salads
While you're making your grand entrance and relishing your first dance as a married couple, the first course will be ready!
Don't worry, we make sure you don't miss a bite with personalized service for the happy couple at every event we cater.
J. Scott Couple Favorites: First Course
Baby Spinach Salad

– Baby spinach, crumbled blue cheese, mandarin orange, shaved red onion, confetti tomato, white balsamic vinaigrette

Zucchini and Squash Noodle

– Zucchini and squash noodle, kale pesto, oven roasted tomato broth, shaved parmesan
Wedding Menu Entrees That Delight
Our planners will work with you to craft the ideal menu for you and your guests while carefully considering and accommodating all dietary requirements.
Previous bride Sara says:
The food was incredible! They were very easy to work with and offered lots of vegan and gluten-free options.

– Sara, 04/2019, via Google
Once you've chosen those perfect dishes, the last thing we want is for your guests to not enjoy their meal together. We ensure entrees are expedited without those waves of service you may have experienced at other events.
Jordan, who was married at Radnor Hunt last year, said:
Service was timely, which is an accomplishment when serving 150 meals. Each table was served at once and in-full, so guests weren't waiting around half-served. Overall a first-class experience!

– Jordan, 08/2019, via Google
J. Scott Couple Favorites: Main Course
Burgundy Soy Marinated Grilled Flank Steak

– Burgundy soy marinated grilled flank steak, roasted pepper avocado relish with roasted sweet potato and swiss chard

Grilled Mediterranean Halibut

– Grilled mediterranean halibut, heirloom tomato vinaigrette, pancetta, mustard greens

Grilled Eggplant, Pepper, Zucchini Stack

– Grilled eggplant, pepper, zucchini, mozzarella, charred pepper vinaigrette with quinoa and roasted heirloom carrots
Philadelphia Wedding Cakes
It's not a wedding if there's no cake to cut (face smash optional!). We work with two local bakeries to provide couples with delicious cake selections that are anything but standard.
Desserts for Your Philadelphia Wedding Menu
Lots of couples choose variety when it comes to the sweet finale of their big day and will serve up an assortment of dessert choices in addition to—or in place of—a traditional wedding cake.
J. Scott Couple Favorites: Distinctive Desserts
Late-Night Snack to Complete Your Philadelphia Wedding Menu
Sometimes the most fun part of creating a catering menu is the late-night options, because who doesn't love late-night munchies on a special occasion?
Our local favorites are The Lost Cow and Common Good Pizza. The Lost Cow provides authentic Philly cheesesteaks made to order right at your reception. And Common Good Pizza creates made to order wood-fired pizza to satisfy your guests late night cravings.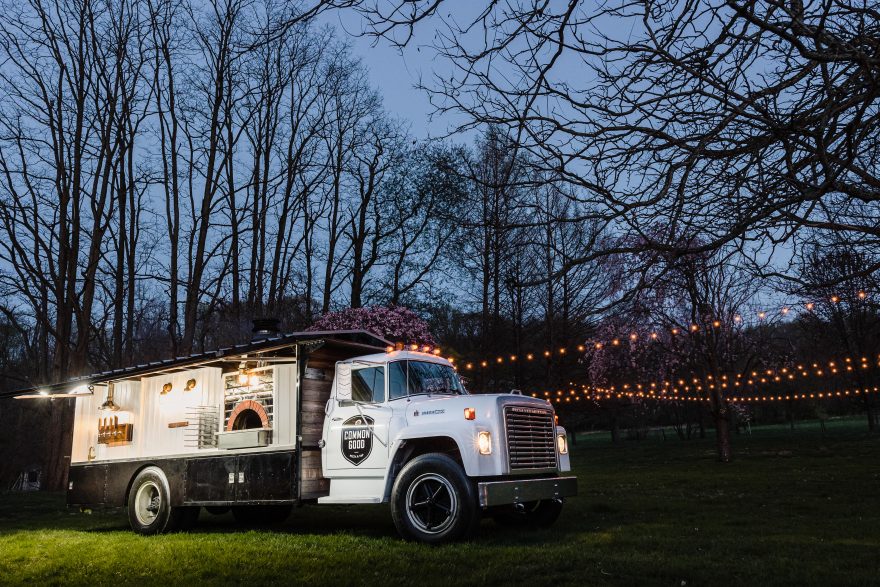 We have other creative options too, like the donut wall chosen by Madlyn!
We are "foodies," and the food was absolutely incredible. We also chose to have a donut wall, which was a huge hit; we would highly recommend.

-Madlyn, 07/2019, via Google
J. Scott Couple Favorites: Late Night
Donut Wall
Philly Cheesesteaks
Unique Drinks for Your Philadelphia Wedding
We can customize much more than just the food menu. If you're a couple who loves a mean cocktail, we love creating custom cocktail bars or experiences for your big day!
J. Scott Couple Favorites: Creative Cocktail Bars
Crush Bar

Whiskey & Cigar Bar
Are you ready to craft the menu for your big day? Let's chat!