One of our newer corporate clients invited us to cater several events over the past few months.  Earning this business based on our culinary expertise and exemplary staff means a great deal to us.  In this featured event blog we share with you some of the images from a wine tasting they held in late November.
The event began with wide variety of passed hors d'oeuvres.  Braised duck leg ravioli was served on petite Asian spoons with sweet onion sage puree.  Crispy pork belly squares were served on toasted brioche with sweet potato and grilled red onion.  Arancini di Riso or wild mushroom croquettes stuffed with fresh mozzarella were favorites among the guests.  Seared Kobe beef was served on squares of wild mushroom bread pudding with truffled horseradish aioli.  Barbeque braised short rib, always a crowd pleaser was served on a crispy Yukon chip with shallot rings.  Vegetarians especially enjoyed the wild mushroom and goat cheese crostini with pepper honey drizzle.  Prosciutto lobster tacos with mango vinaigrette and citrus salsa were served between lime slices to keep them standing. Warm brie and pear rounded out the passed hors d'oeuvre options, wrapped in phyllo stuffed with Cajun pecans.
The event featured a stationary hors d'oeuvre tabled packed with classic antipasto favorites including soppressata, prosciutto, gorgonzola, aged provolone, marinated fresh mozzarella, classic shooters, marinated sun dried tomatoes, roasted artichokes, assorted imported olives, marinated po river onions, roasted marinated peppers, caper berries and a bounty of herbed focaccia.
The event featured multiple tasting stations with a wine tasting station that offered pairing for all of the dishes.  The short rib station offered guests slow braised short ribs in rich demi-glace with creamy polenta and braised vegetables.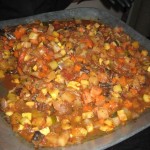 The Grand Banks fish station provided guests a taste of freshly carved fish.  Visitors to the station tried Yellowfin tuna medallions with black and white sesame seed crust and grilled Swordfish with light herb pesto.  Both options were offered with a selection of grilled vegetables.
The fresh tossed pasta station featured a variety of stuffed pastas for guests to enjoy.  Butternut squash ravioli was served with brown butter.  Guests raved about the veal and sage agnolotti also offered at this station.  Both pastas were offered with Italian breads and olive oil.
The last, a home style chicken station, offered guests two different preparations of chicken accompanied by creamy polenta.  The first, seared medallions were served with Kennett Square mushroom jus.  The second, roasted medallions were stuffed with leeks and baby spinach.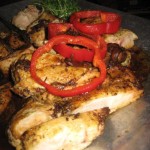 And of course what event would be complete without a sweet treat to end the meet.  A variety of individual petite selections were passed to guests.  Selections included truffles, fruit bites, hand dipped chocolate covered strawberries, salted chocolate caramels and miniature dessert cups.  The wine station paired dessert wines with the passed dessert options.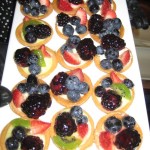 This fun filled evening treated our client and their guests to a plethora of culinary creations paired with delicious wine tastings.  Thank you to the J. Scott Catering staff and our client who made this event a success!