On November 17, 2018, we had the privilege of helping one amazing couple celebrate the next chapter in their life at the Phoenixville Foundry. The couple was Emily and Andrew—a sweet, fun-loving and gorgeous pair who deserved every bit of happiness on their wedding day.
The Happy Couple
For their wedding day, Emily and Andrew wanted something traditional, classy and elegant. They opted for a simple aesthetic of white and pink florals with a lot of greenery—a timeless style that beautifully complemented the architectural elements of the Foundry.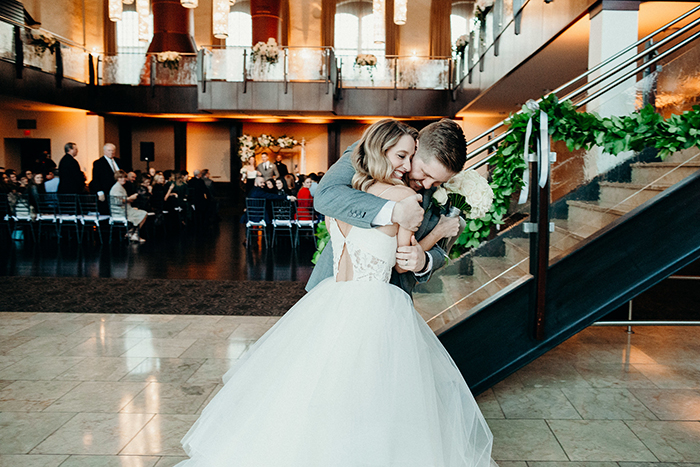 The couple's sophistication extended to their fashion choices for the big day, too. Andrew looked dapper in his classic suit, with a gray jacket to add a little modern flair! Emily was a vision in her wedding dress, which featured a plunging V-neck, a full ball gown skirt and lacy bodice that showed just a hint of skin. But of course, the best things our bride and groom wore were their big, beaming smiles!
A Charming Ceremony in the Cupola Ballroom
Emily and Andrew were wed by Dr. Chaz Howard in a ceremony that was short, intimate and incredibly heartfelt. The ceremony began in the Phoenixville Foundry's legendary cupola ballroom, under its sparkling chandeliers. This stunning space was arranged with seating for all 107 of the couple's nearest and dearest, all facing a striking arch decorated with flowers, greenery and branches. Emily and Andrew joined hands at the altar, exchanged vows and rings and sealed the deal with a kiss, officially becoming husband and wife!

Cocktails and Canapes
The couple had already had their first look when they took their wedding photos prior to the ceremony, which meant that cocktail hour was all about chatting with their guests (and enjoying some wine). During this time, guests traveled upstairs to our mezzanine, where they relaxed and chatted on some chic lounge furniture—courtesy of J. Scott Catering.
While the newlyweds mingled with their guests, waiters passed around trays of tasty hors d'oeuvres, which included:
Roasted tomato bisque with a grilled cheese wedge
Fried chicken and waffles with sausage gravy
Mongolian beef sticks with a scallion dipping sauce
Mac and cheese tartlets
Barbeque braised short rib on a crispy yukon chip with shallot rings
Vietnamese chicken spring rolls with tamarind dipping sauce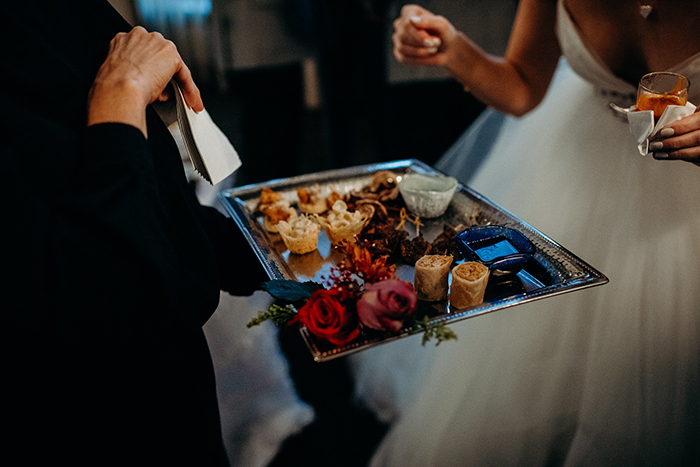 Guests also whet their appetites with the two stationary hors d'oeuvre stations on either side of our mezzanine. They could choose from shrimp cocktails or a classic antipasto station—but either selection was definitely a treat!
While the cocktails flowed, our team was hard at work transforming the reception space. The cupola ballroom had been divided with a removable wall during the ceremony. We opened up the space and filled the West Wing Ballroom with round tables covered in white linens, platinum-rimmed china and centerpieces with white florals. We also set up a sweetheart table for the guests of honor.
Dinner and Dancing
As the cocktail hour came to an end, DJ Dan Fischer from Love City DJs introduced the couple's maid of honor and best man, as well as the bride and groom and their families. Emily and Andrew shared their first dance, and they also performed dances with their parents, a sight that made many guests misty-eyed. After these sweet dances, DJ Dan invited everyone to find their tables for dinner.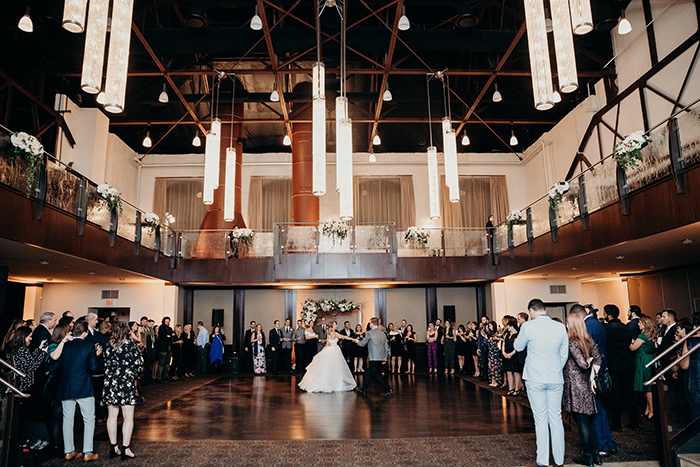 Guests moved into the reception area, found their seats and tucked into a veritable feast. Our menu had something for everyone, and every dish was mouth-wateringly good. The menu included:
Classic caesar salad with house-made asiago croutons (caesar and balsamic dressings)
Pan-seared beef with garlic and rosemary merlot demi
Pan-seared lump crab cake with grilled pineapple relish and chipotle aioli
Fall vegetable risotto with grilled leeks, porcini broth and toasted brioche
Shaved Brussels sprouts with caramelized onions
Butternut squash puree

A Sweet Ending
The reception was filled with dinner, dancing and lots of laughter—but there was one more treat in store. Clay's Bakery designed a beautiful three-tiered cake for Emily and Andrew, complete with white sugar flowers cascading down the tiers. The couple performed their cake-cutting ceremony from the Juliet balcony in the mezzanine while guests looked on from the dance floor, ready to enjoy their own slice.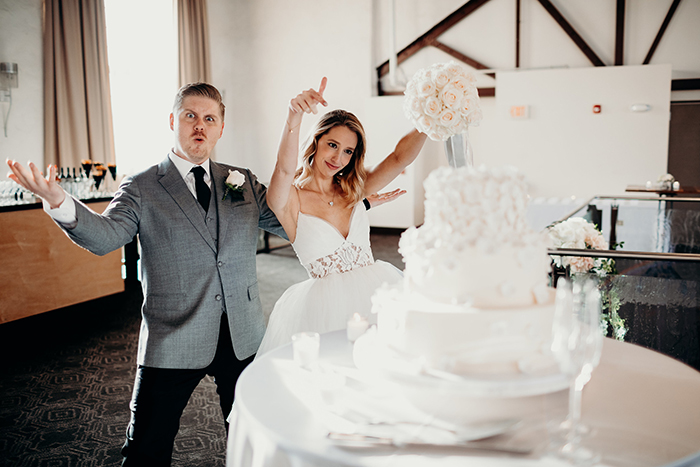 Emily and Andrew's wedding was everything a wedding should be: classy, beautiful and a whole lot of fun! We were honored to share in this couple's special day, and we wish them all the love and happiness in the world.
More Articles you Might Like: