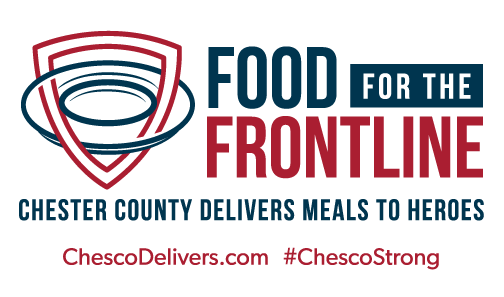 Give the gift of a ready-to-eat, Thanksgiving meal for our Chester County healthcare professionals.
Meal includes:
Slow Roasted Turkey Breast with Cornbread and Sage Stuffing
House Made Gravy
Cranberry Compote
Braised Harvest Vegetable and Potatoes
Pumpkin Pie
All orders must be placed by 12:00PM on Monday, November 23rd in order to be delivered on Thanksgiving. A custom label for each meal with your company logo or personal message is included.
Please disregard any delivery instructions on the ordering site. All orders will be shipped on your behalf. You do not need to pick up meals and deliver. 
J. Scott Catering, Chester County Conference & Visitors Bureau, Chester County Chamber of Business & Industry and Chester County Economic Development Council proudly support "Food for the Frontline."
SPECIAL THANKS TO:
Chester County Commissioners Office
Downingtown Thorndale Regional Chamber of Commerce
Exton Region Chamber of Commerce
Great Valley Regional Chamber of Commerce
Greater West Chester Chamber of Commerce
Oxford Area Chamber of Commerce
Phoenixville Regional Chamber of Commerce
Western Chester County Chamber of Commerce
Main Line Chamber of Commerce
Chester County Chamber of Business & Industry
Chester County Conference & Visitors Bureau
THANK YOU TO ALL OF OUR CONTRIBUTORS SO FAR:

Danielle Gasperone
Susan Hamley
Michael Walsh
David Campli
Marianne Plucienik
Tim Fuhr
Kaitlin Rodgers
Dawn Prewitt
Darryl Romig
F. William McNabb
Rose Addona
Jayne Castellucci
Debra Sampson
GLC of Paoli
Paul Evans
Michael Parella
Homayoon Pasdar
Elaine Kicak
Bryan Costello
Amanda Jensen
Dianne Oakes
Lorraine Capra
Lisa Carraway
Jacqueline Higgins
Nathan Kerrick
Courtney Markezin
Susan Maley
Linda Mclaughlin
Brooke Lipskin
Jo Schafer
Dee Washington
Cathy Doan
Jenny Suryani
Kathleen Hallman
Leslie Rahling
Elizabeth VanSchooneveld
Erica McReynolds
Jon Nehlsen
Margaret Loughlin
Eileen Carrozzino
Thomas Cummings
Blaine Leroy
Ann Barth
Nancy Harkins
Kate Dispennett
Julia Giampietro
Patrick Byrne
Michelle Lea
Victoria Heimann
Laurie Giampietro
Bobette Fisk
Janice O'Brien
Abel Brothers Towing
Gary DiVincenzo
Erin Morrison
Judith Thomas
Monica Rubio
Erin Warner
Martha Laney
Megan Fitzpatrick
The Batty Family
The Van Keuren, Stackhouse and Deitch Families
Jennifer Van Keuren
Univest Financial
Signs Unlimited
Marci England
Sheetul Agrawal
Jennifer Walheim
Margaret Flowers
Debbie Miller
Neha Saxena
Dana Pirone
Jessica Troiano
General Warren
Keith Ebbert
Marnie Kelly
Bea Quaintance
Joel Somerick
Suzanne Jackson
Debbie Miller
Debra Miller
Zuckerman Family
Donna Cullinin
Maggie Reed
Angela Di Santo
Rebecca Adams
Cathy Lafferty - University of Penn
Michael King
Chester County Commerce of Business & Industry
Patricia White
Kristen Dougherty
Melissa Grant
Kathy Klingsberg
Janice Wisely
Rosemary Diederich
Melissa Clark
The Team at Rehab Financial Group, LP
Joanne Wisely
Francis Abbott
Amy McGee
Gina Diorio
Ann Lane
Lele Galer
Laurie Ryan
Pennsylvania Distilling Company
Jennifer Foley
Carole Kirkpatrick
Joy Coelho
Jenna Valocchi
Zachary Valocchi
Linda Steller
Glenn & Kristin D'Ascenzo
Trinity Christian Reformed Church, Broomall, PA
Phyllis Zecca - Coldwell Banker